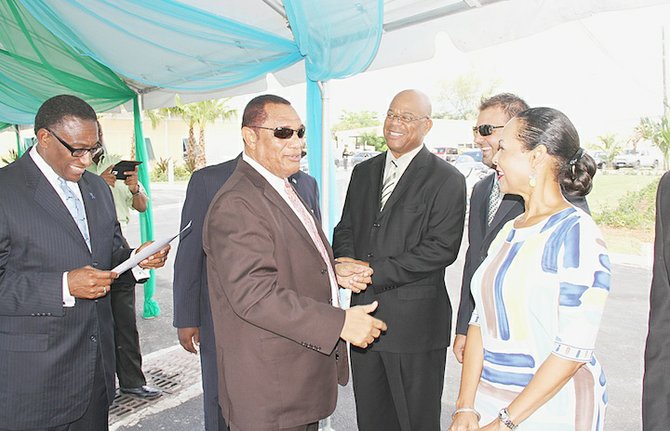 By SANCHESKA BROWN
Tribune Staff Reporter
sbrown@tribunemedia.net
PRIME Minister Perry Christie said yesterday he has advised Bahamas Agricultural and Industrial Corporation Chairman Arnold Forbes to explore the viability of state-run mining operations for aragonite and salt.
Speaking at the opening ceremony for BAIC's new executive offices on Soldier Road, Mr Christie said initial reports on the possibility of aragonite mining and export by the government have been "positive".
"I indicated to Mr Forbes, I told him that the country has a raw material called aragonite, a component of sand and that the world may be interested in this natural resource of the Bahamas. So, please find out for us, before we start a national debate on this issue, whether or not we can have a sustainable industry through its export," Mr Christie said.
"So he has been commissioned to give a report on how do we do it and how we get participation. How can we use this sand and aragonite for industrial purposes or even re-nourishment purposes. The initial studies that have been done have indicated positively towards our being able to have a sustainable industry here. We have so many natural resources, even the salt in Inagua. The question for us is, can we economically find any other place in the Bahamas that can produce salt on a sustainable basis? Well, BAIC will be able to answer these questions."
The Prime Minister also said that previous governments have been "slow" to export aragonite and sand because they did not want to give Bahamian resources to the competition. However, he said, there has to be a way to make it work.
"The private sector is well ahead of us in this regard. There are persons in the private sector who have been doing incredible research throughout the United States of America on its use for beach nourishment," he said.
"Previous governments have been very concerned about exporting sand to make competitors' beaches and we have to take advantage of the fact that we have naturally beautiful beaches. The truth is when we start taking sand and putting it on other people's beaches what we are doing is making them better. So the research is being done that will let us know how we can do these things."
In May, John Pinder, the Bahamas Public Services Union president, urged the government to cancel a current aragonite production agreement and renegotiate its terms to generate an estimated $4.2 million a year in revenue.
He chided successive administrations for allowing the contract to continue that "gave away the country's natural resources for a pittance."
Mr Pinder, who is also president of the National Congress of Trade Unions of the Bahamas (NTCUB), urged officials to introduce new conditions that would allow the government to receive $350 per ton of aragonite.
Currently the Bahamas government receives $2 per ton while the Billingham Dredging Corporation sells aragonite they mine in the Bahamas for $900 per ton. Those terms were enacted under the former Ingraham administration.