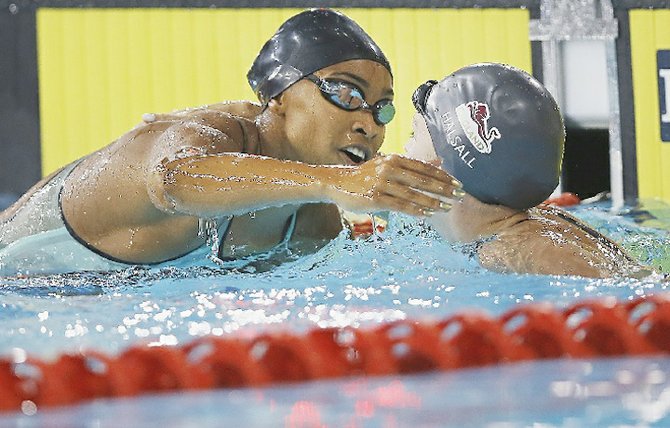 By BRENT STUBBS
Senior Sports Reporter
bstubbs@tribunemedia.net
GLASGOW, Scotland — Sir Arlington Butler has been around the Olympic movement for so long that he knew sooner or later, the Bahamas would have broken the barrier in swimming and finally gotten that elusive medal in swimming at both the Olympic and or the Commonwealth Games.
The feat came at the latter during the 20th version of the Commonwealth Games on Sunday at the Tollcross Swimming Center where Arianna Vanderpool-Wallace emerged as the silver medallist in the women's 50m butterfly in a national record time of 25.53 seconds.
"I've been around the Olympic movement for the past 50 years and it's finally good to see us finally win a Commonwealth Games medal," said Butler, who himself made history when he was honoured during the games' congress for his longevity to the movement.
"It's the first time. Everything happens in its time. I'm just so happy for her. She deserves it."
BOC secretary general Rommel Knowles said it was a long wait, but it was worth it.
"Watching history. This will go down in my memoir for life," he said.
Veteran photo-videographer Stanley Mitchell, who has attended his fourth Commonwealth dating back to 1994, called it one of the greatest performances he's ever witnessed in his lifetime.
"After coming to Glasgow and riding up and down in buses getting to and from the venues, I was getting disappointed. I was getting out of it," he noted. "But when she won the silver medal, it was like going back in time to the 'Golden Girls' or Troy Kemp or Pauline Davis.
"It was fantastic and to see a swimmer from the Bahamas win a medal and to be here as a Bahamian to witness it was just fantastic. I feel like doing the butterfly, the butterfly. That's all I can say."
Chef de mission Roy Colebrooke said while he joins in the celebrations of Vanderpool-Wallace's achievement, he's confident that there is more to come in the other disciplines.
"This is a great thing and I'm really proud of her and I'm sure that the country is proud of her," he said. "I'm very pleased that it came under my watch. Any games that I go to, under my leadership, we usually medal.
"This is a very important thing that we must take note of. I try to create an environment that only caters and ensures that the athletes give their best performances. This is a very clear example."
Members of the swimming team, who all stuck together and supported each other both in training and competition, were just as elated as everybody else about her success.
"We all expected her to win a medal, but going that fast after she had to swim all of those events this week is good for her," said Elvis Burrows. "She's having a good couple of years lately and I want to wish her all of the best and hope she can keep it going."
Teenager Joanna Evans, already starting to make a move to take over from Vanderpool-Wallace and Ariel Weech, said they all were encouraging her because they knew it was in her.
"I spoke to Dustin just before the race and I asked him if he was scared and he said yeah," Evans said. "Everybody was watching and coach Andy predicted the silver and she got it. That was excellent. One day somebody will say you remember when Arianna won the medal and I can say 'yeah, I was there.'"
Tynes, another teenager at 18, said he expected it.
"I was so nervous for her, I can only imagine how she felt," he said. "It was a great race. I just enjoyed it, but I just enjoy watching Arianna whenever she swims."
Having spent the past few days in the pool swimming against Vanderpool-Wallace in the heats of both the 50 and 100m freestyles, Ariel Weech said it was just awesome to watch her win the medal.
"I expect great things from her always. I think this is just the beginning for her," she said. "I think this will open a lot of doors, not just for her, but for a lot of people who look up to her.
"If she can do it, we can do it, I think the next medal she will get is at the Olympics and I hope to be right there with her when she does get it."
Team manager Kathy Dillette said it was an historic performance and it turned out to be a wonderful day for swimming.
"We were all there and we knew that it was going to happen," she said. "It was just that she worked so hard for it. It was a long time coming, but she deserves it. I believe that there is many more to come."
Coaches Lionel Maureau and Andy Loveitt were just as ecstatic as everybody else.
"Whatever makes her happy as far as swimming goes makes me happy. She finally got a medal and she now knows that she is at the level of the other girls," Maureau said. "She went out there and she proved it by winning the medal."
And Loveitt said it's a wonderful day for the Bahamas swimming because Vanderpool-Wallace worked so hard when she was at Auburn with coach David Marsh and now she has reached the medal podium.
"She can now build on this. Next year is the World Championships and in the 50 fly, she will be going for it," he said.