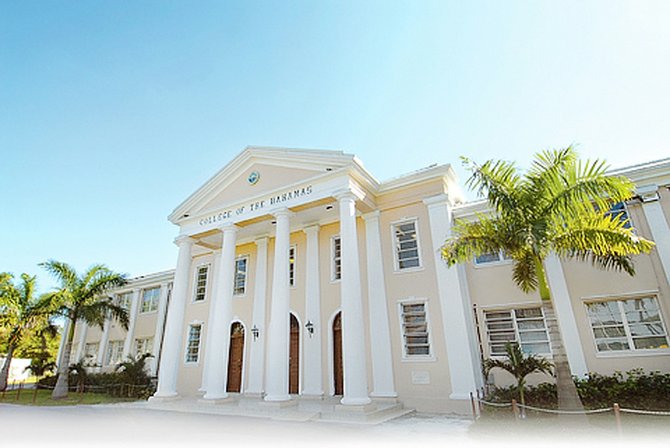 Reader poll
Yes, I agree with the recommendation. 41%
No, I do not agree with the recommendation. 59%
128 total votes.
By AVA TURNQUEST
Tribune Staff Reporter
aturnquest@tribunemedia.net
FORMER College of the Bahamas president Dr Rodney Smith's plagiarism scandal remains a concern for the government despite his selection as top pick to head the institution.
Education Minister Jerome Fitzgerald said yesterday that a major concern was whether or not Dr Smith's appointment would jeopardise the college's eligibility for accreditation needed to transition to university status.
He remained tight-lipped over whether or not he would support the college council's proposal to put the embattled academic back at the helm, but said he was ready to present his recommendation to Cabinet.
The decision had already been discussed by Cabinet; however, Mr Fitzgerald said he withheld his final opinion in an effort to ensure that there was widespread acceptance from stakeholders at the college and wider community.
Mr Fitzgerald said: "There was a few items that I wanted to get comfortable with before I gave the final presentation. I wanted to ensure first of all that within the college community, the lecturers, the students and the line staff, that there was general acceptance with regard to the recommendation. I think the three unions that are represented at the college have all voiced their support for the application.
"I also wanted to have a better understanding of what the public's view was on it because this is a very important decision with regard to us moving to university status. I wanted to ensure that the public was to the point where they were generally supportive of it, and that they would support the efforts for us to move to university despite the fact that Dr Rodney Smith had resigned before because of the issue of plagiarism."
He said: "I think to a greater extent the fact that the lecturers within the college have voiced their support, and they are the ones who really set the academic criteria as to whether or not that is sufficient of a sin to disqualify him. I think that was answered for us but the most important point for me was to ensure moving forward that the appointment of Dr Smith would not adversely impact our ability to receive the accreditation we need in order to move to university status."
Mr Fitzgerald said he consulted with presidents from American colleges on the matter, but also gave significant consideration to public statements by retired Archbishop Drexel Gomez and prominent businessman Franklyn Wilson, former College of the Bahamas council chairman. Bishop Gomez and Mr Wilson were appointed to a special panel to review the matter: both recommended Dr Smith's termination.
"I think the view locally from Bishop Gomez and from Franklyn Wilson was very instructive, because to a great extent they were the views and concerns of members of the public," he said.
"There is no secret that you have a lot of intelligent people who have voiced their concerns and their support, and so you have a difference of opinion. But I think we're now at the point where we are able to get a consensus and also to the point where I have talked to the persons who I need to talk to, and to be satisfied myself one way or the other with the recommendation that I am about to make."