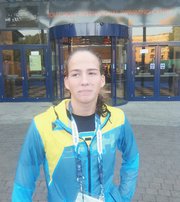 By BRENT STUBBS
Senior Sports Reporter
bstubbs@tribunemedia.net
GLASGOW, Scotland — As the curtain came down on the swimming competition at the 20th Commonwealth Games, Joanna Evans polished off an impressive showing for the Bahamas' five-member swim team at the Tollcross Swimming Centre on Tuesday.
Posting her third lifetime best swim in as many events, Evans clocked four minutes and 17.81 seconds (surpassing her previous best of 4:17.29) for second place in her heat of the preliminaries of the women's 400 metres freestyle.
The national record of 4:31.05 that was set by McKayla Lightbourn at the 2007 CARIFTA Games in Kingston, Jamaica, is still intact but may not be around for too long.
Coach Andy Loveitt said that while the record was one of Evans' targets here, he had nothing but praise for the way the Grand Bahamian 17-year-old teenage phenom swum during her maiden voyage at the senior level.
"Joanna was obviously showing signs of tiredness after the major exertion of her 800," said Loveitt of the race in which Evans got Team Bahamas off to a sensational start with her first record-breaking performance, erasing her own record in the 800m free. She followed that by erasing Arianna Vanderpool-Wallace's national record in the 200m free.
"It is still hard in this stage of Joanna's development to put two long distance races together with only a one-day recovery and that is something we will both be working on in the future."
Evans, still enjoying her role as a high school student, had splits of 30.20 in her first 50m, 1:03.35 (30.72) at 100m, 1:32.50 (32.68) at 150m, 2:05.21 (32.71) at 200m, 2:38.54 (33.33) at 250m, 3:12.01 (33.27) at 300m, 3:45.90 (33.22) at 350m and 31.91 to bring it home as she touched the wall for the final in the record-breaking performance.
"Joanna started the race well and split the first 150 on target, but was unable to maintain that pace through the middle of the race and finished with a time half a second slower than her national record," Loveitt said. "She would have liked to have returned home with three new records, but is more than happy to go home with two especially as she smashed her 800 metre time."
Not only Evans, but Loveitt, who worked along with coach Lionel Maureau and team manager Kathy Dillette, said the swim team had a fantastic showing and the Bahamas Swim Federation, headed by president Algernon Cargill, was extremely proud of them all.
"They will return home knowing that everyone swam at the top of their form," Loveitt said. "All five swimmers had top 16 finishes. Arianna made the final in all three of her events and created history by winning the silver in the 50m fly. That day will never be forgotten. She also broke five national records, Joanna broke two in the 200 and 800m free and Dustin (Tynes) broke the national record in the 100m breast. That is eight records in all."
Loveitt said he and Maureau are ecstatic with everyone's performances and they see a bright future ahead for the Bahamian swimming programme.
Of course, Loveitt will be heading to Nanjing, China, next month with Evans and Tynes as they go on to represent the Bahamas at the Junior Olympic Games. If their performances here against the elite world-class swimmers were any indication, Loveitt said he is confident that the sky will be the limit for the two teenagers when they compete against their peers.