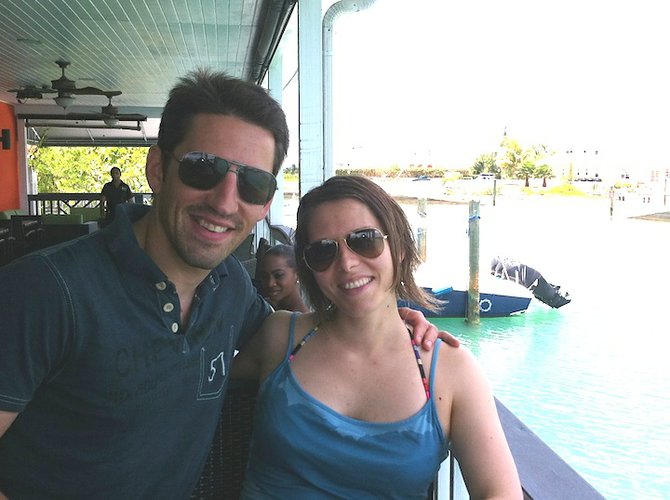 By LAMECH JOHNSON
Tribune Staff Reporter
ljohnson@tribunemedia.net
A PROSPECTIVE second home-owner seeking to buy a home in New Providence is surprised by the murder rate and reports of the high levels of crime in The Bahamas.
The concern of a couple, one French, the other Canadian, follows the release of the US Department of State's annual Crime and Safety Report which has again warned Americans of the level of criminal activity against locals and tourists in this country.
Fabrice Dupond, a former policeman of more than a decade in Paris, spoke to The Tribune yesterday at a local eatery with his wife Julie, a lecturer at a university in Edmonton, Alberta.
"I was surprised when I read that in Nassau, there were more than 100 murders the past three years and a lot of armed robberies because it's a small city when I compare to Edmonton or Paris which has a bigger population. I think it's really high for a place so small," he said.
"I saw lots of police officers in downtown, but not too much in other areas like Cable Beach and more so in the non-tourist areas. I think police officers have to be everywhere not only for tourists, but also for locals," he added.
The US CSR for 2014, released last Wednesday, warns that despite "formidable anti-crime initiatives" enacted by the Royal Bahamas Police Force (RBPF) last year there was a significant increase in violent crimes in locations frequented by American tourists in 2013.
"While there has been a slight reduction in 2013 in some crime categories as reported by the Royal Bahamas Police Force (RBPF), violent crime remains above the 2012 level," the report said.
The report added: "Armed robberies, property theft, purse snatching and general theft of personal property remain the most common crimes perpetrated against tourists.
"Many criminals carry firearms, machetes or knives. Unless provoked, criminals engaged in property crimes do not generally engage in gratuitous violence. There have been several reported armed robberies using a knife where the assailant assaulted the victim after the victim fought back and resisted. Many of these armed robberies were snatch-and-grabs involving purses, jewellery and gold necklaces."
The report pointed to last June's robbery of a US Embassy employee during which she received minor injuries while on her way to church. It also recalled the home invasion and armed robbery of Deputy Prime Minister Philip Davis and his wife as well as the murder of businessman Kurt McCartney, the brother of Democratic National Alliance (DNA) Leader Branville McCartney.
The May 12, 2013, murder of Chicago sailor Kyle Bruner, which sparked a 6-month long hunt for his killer, was also referred to. Bruner, 34, was shot in the neck while trying to help a woman who was being mugged by two armed men in the downtown area.

According to the report, the Bahamas has experienced a "wave" of armed robberies at gas stations, convenience stores, fast food restaurants, banks, and residences. The report said "pre-attack surveillance" is popular among criminals who commit these crimes.
It added that there were several reports of victims being followed home after closing their businesses, some of whom were severely injured.
The number of assault reports also caught the eye of the Americans who noted that sexual assaults in hotel rooms, casinos, outside hotels and on cruise ships had increased.
The report warns visitors to stay from the "Over the Hill" area.
Bahamians have been vocal about the resumption of the death penalty in view of the series of crime warnings issued by the US.
However, Dupond believes that the issue of the death penalty is "a very tricky question."
"There would have to be a very efficient legal system to know if a person is truly involved or had committed murder to be sure before we take his or her life," he said, adding that "in Paris and Edmonton, we do not have the capital punishment."
He did, however, note that the punishment for serious crimes in France could be a lot stiffer than they are now.
"For example, rapes or bank robberies, criminals can get five years in jail so I think it's not appropriate to give so little for that type of crime," he said.