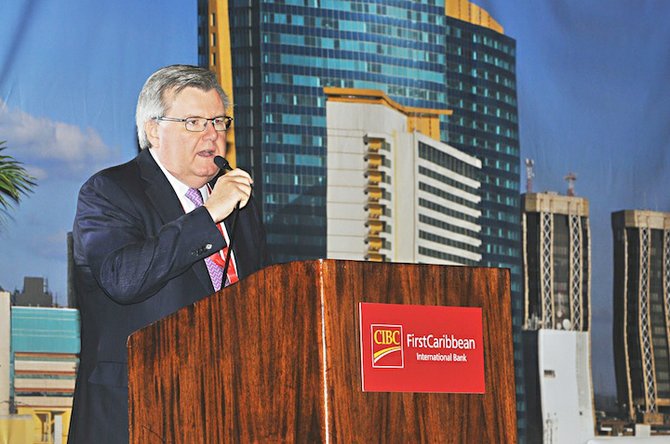 By AVA TURNQUEST
Tribune Staff Reporter
aturnquest@tribunemedia.net
PORT OF SPAIN, Trinidad - Delinquent mortgages in The Bahamas represented a "lion's share" of the non-performing loans written off by CIBC FirstCaribbean this year, the bank's CEO Rik Parkhil said yesterday.
Despite the financial institution's recent capital market-record $174 million net loss, Mr Parkhil revealed plans for a new wealth management centre in The Bahamas as he underscored the bank's commitment to the region.
"If anything CIBC is more committed to the Caribbean region, at some point the Caribbean economy will improve," Mr Parkhil said. "There are some modest signs in some places that have been quite stressed like Barbados, and we are continuing to invest in our operations. If you look at our operating performance, excluding the loan losses, it was up.
"There's a lot of things that are being done to ensure that once recovery does start that we're in a position that we can realise where there is profitability and growth and compete more effectively."
"We want to do more business," he said, "we want to lend more money and we want to provide services that make people's financial lives easier. The new mortgage and loan centres are not only to sell people mortgages but to provide them with customised advice and some financial planning services or an indication of that. We are very committed to the region and we're going to have to ride out this weak economic period."
As reported by Tribune Business last month, Mr Parkhil explained that the bulk of the Bahamian operation's 2014 first half loss stems from an accounting treatment, rather than operating losses.
He said: "It was a one-off non recurring charge that we took to reflect deterioration in collateral against non-performing loans, and the reason the security has deteriorated is that we have gone through a prolonged period of very slow economic growth in the Caribbean region dating back to 2008.
"The longer these loans stay on the books, the less viable the security is, and so we thought it was prudent given our outlook in the region – as well as to create a bigger buffer on a going forward basis if the region's economic performance continues to be weak – to increase our provisions against non-performing loans.
"It is largely done against residential mortgages that have been non-performing for quite a while and I think the lion's share of the provision as it related to non-performing mortgagees is in The Bahamas," Mr Parkhil said.
"As long as the Caribbean economy stays weak, we're probably going to have loan loss expense that is higher than we would like and higher than historical levels. But I don't expect the magnitude of the position that was taken in the second quarter to be repeated. We now have coverage ratios on our non-performing loans that are around over 45 per cent which I think gives us some confidence that we are very well provided against loan losses."