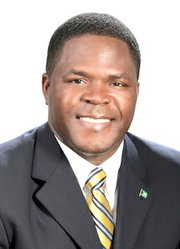 By KYLE WALKINE
Tribune Staff Reporter
kwalkine@tribunemedia.net
KHAALIS Rolle, Minister of State for Investments, yesterday sought to allay fears that dredging activities by a private developer in North Bimini will harm the environment.
He told the House of Assembly that a similar level of dredging took place in the country years ago without significant damage to the marine environment.  
Resorts World Bimini (RWB) began dredging last month to accommodate its cruise ship terminal, 1,000 foot pier and man-made island.
Mr Rolle said Disney Cruise Line's Castaway Cay, located near Abaco, was opened in the late 1990s and extensive dredging in the area occurred to accommodate large cruise ships.
"This happened in the late 90s with a lot of dredging," he said. "I think the same amount of dredging done here, is the same amount that was done in Bimini. Bimini may be about 50,000 cubic yards more.
"You go there, and the environment is one of the most pleasing ones," he said. 
"In fact, the president of Disney said amongst all of Disney Cruise's destinations, the satisfaction rate on this is 97 per cent. The environment (is) intact. They did the dredging and if you look at the environment outside of the channel that the cruise ship comes in, the environment is pristine." 
The controversial Bimini dredging is at the centre of a court battle and has elicited an outcry from environmentalists who believe the project will harm the country's natural resources.
On May 30th a Supreme Court judge set aside an injunction handed down by the UK's Privy Council, which in turn gave Resorts World Bimini the green light to restart its dredging activities. 
The Bimini Blue Coalition, which initiated legal action to stop the dredging, now has to pay for all of the expenses of the government and the developers, both before the Privy Council and the Supreme Court. 
RWB's Public Relations Director Michelle Malcolm has said the dredging will result in many Biminites finding employment. 
"The people of Bimini know that Resorts World Bimini is an enormously positive development for the economy and ethos of the island, and we are hopeful that outside special interests will finally cease their litigious efforts to stand in the way of a project that the local people so clearly want," she said.