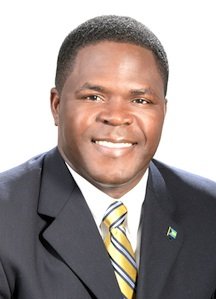 Khaalis Rolle
Stories this photo appears in:

A Cabinet Minister yesterday urged environmental activists to be "balanced and responsible" when launching legal actions against legitimate developers, warning that these could deny Bahamians much-needed "economic benefits".
A Cabinet Minister yesterday admitted that successive governments had "committed some sins" in failing to properly manage the Bahamas, as he warned: "The world is leaving us behind."

MINISTER of State for Investments Khaalis Rolle defended the government's fiscal policies yesterday after it was revealed in the Central Bank of the Bahamas' Quarterly Economic Report that the national debt increased by $581.4m, or ten per cent, up to June of this year.

EVEN if a minister has received a pass grade during these three weeks of the Cabinet Report, note that I will be watching closely and therefore they could either improve or be on a downgrade watch.

A FEASIBILITY study for Pinewood Gardens' storm water management is currently before Cabinet awaiting approval before work begins on drainage repair to the flood prone area. The repair is estimated to cost between $8 to $13 million, not the $25 million initially proposed.

KHAALIS Rolle, Minister of State for Investments, yesterday sought to allay fears that dredging activities by a private developer in North Bimini will harm the environment.

A DAY after a purported developer defended his business against scam claims, Investments Minister Khaalis Rolle said he is concerned the business might be "preying on poor people."