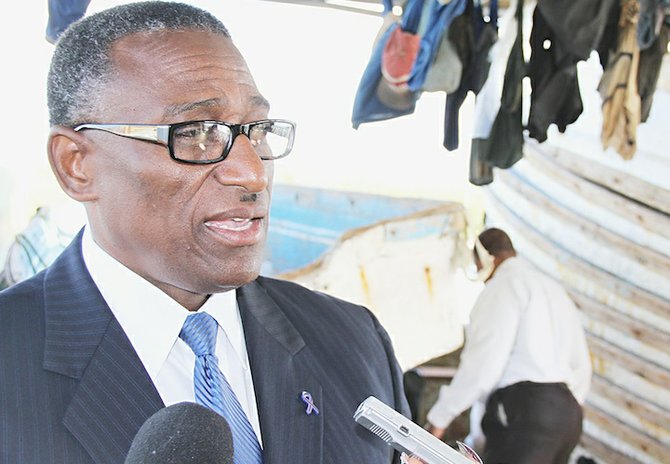 By KYLE WALKINE
 Tribune Staff Reporter
kwalkine@tribunemedia.net
NEW generation politicians must learn not to be "fast on their tongue", MICAL MP V Alfred Gray warned yesterday explaining that a mistake can lead to the end of a political career.  
Mr Gray also suggested that political newcomers must learn how to play party politics and understand that they are not in a "one man band."
He was responding questions from The Tribune about comments made last week by Marco City MP Gregory Moss, who criticised the government's plan to implement value added tax (VAT) on January 1, 2015. 
Mr Moss said VAT goes against the founding principle of the Progressive Liberal Party and would negatively impact the poor.
When asked about Mr Moss' criticism, Mr Gray said the approach that the "new generation" politicians take is much different from the "older generation."
"I don't know whether there is a difference in generational politics," he said before heading into a Cabinet meeting. "I think our approach to politics might be different and that too has a place in politics. The older generation might be a little more cautious and a little more careful in what they say and do because they've been around a long time. Politics is slippery. If you mess up, you could be out, just by being fast on your tongue.
"Sometimes you just have to be cautious of what you say and how you say it because you're dealing with party politics and not a one man band. Whatever anybody says can affect the whole party. I have always approached politics with great caution. Sir Clifford Darling once told me that politics is a slippery slope and if you're not careful, you can fall.
"People have to learn how to play this game," he said. 
During the 2012 general election campaign, the PLP marketed several of their candidates as a "new generation of leaders" who would help to bring new and innovative ideas to the government. 
That new generation included such newcomers as Fort Charlotte MP Dr Andre Rollins, Bamboo Town MP Renward Wells, Mr Moss and Nassau Village MP Dion Smith.
Both Mr Moss and Dr Rollins have been outspoken against some of the government's policies since being elected.  
During his contribution to the 2014/2015 budget debate yesterday, Dr Rollins defended Mr Moss' criticism on VAT. He said when a politician expresses views that are different from the party line, it did not mean the politician is trying to undermine his party.

"While I do not share the view held by my colleague from Marco City that the implementation of VAT will be disastrous for our country, I do, however, agree with his argument that VAT should be one of several combined tax initiatives used in concert to address our fiscal deficit," Dr Rollins said. 
"I hasten to add, Mr Speaker, that to raise differing points of view does not mean that you wish to harm or undermine your political party as some party loyalists may assert; it doesn't mean that you are trying to jump ship or that you are making plans to cross the political floor; and no, Mr. Speaker, it does not mean that you are not a team player. Such thinking is dangerous, as it can be construed to imply that we must prioritise the interests of the party above the interests of our nation."
On Sunday, PLP Chairman Bradley Roberts severely criticised Mr Moss' statements on VAT.
"He expressed himself, but he obviously did not understand what the facts (are) here," Mr Roberts told The Tribune.
He added that Mr Moss spoke "out of turn" and is "on a course that obviously only he is on."
However, he added that the PLP welcomes differing views from party members.
Yesterday Mr Gray agreed with this and said, unlike the previous administration, the PLP government does not believe in silencing those within that have different views. 
"I think he (Bradley Roberts) expressed his opinion and Mr Moss expressed his opinion where they differ," he said. "That's what democracy is all about. But we have no reason to silence anybody. I think the party is strong and is open to differences of opinion."
"I think that's healthy. It's when you can't give an opinion that there's a problem, like in the previous administration where there was only one man with an opinion. We have an open door. People have a right to have a different opinion about things and Greg has a right to be different with his opinion. He may not be right, but he has a right to his opinion."