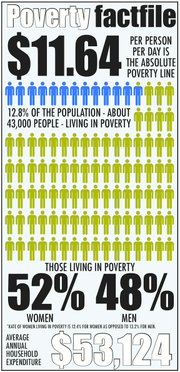 By AVA TURNQUEST
Tribune Staff Reporter
aturnquest@tribunemedia.net
CHILDREN under 14 have the highest poverty rate in the Bahamas as national statistics released yesterday reveal more than 40,000 persons in the country live under the poverty line on less than $5,000 per year.
Findings show that 12.8 per cent of the population are living in poverty with a 3.5 per cent hike in the annual poverty line since the last recorded study in 2001, from $2,863 to $4,247.
Women represent 52 per cent of all poor persons, but have a lower poverty rate than that of men; however, women-led households have a higher rate of poverty at 9.7 per cent, than that of households headed by men at 7.9 per cent.
The absolute poverty line is $11.64 per day, according to the Department of Statistics' 2013 Household Expenditure based on socio-economic and demographic information collected from households throughout the country last year.
The poverty line represents the amount an individual needs to meet basic necessities, which were described as a combination of the minimum expenditure needed for a nutritionally adequate diet as well as the amount needed for basic non-food necessities.
Children under four had a poverty rate of 18.6; ages five to 14 had a poverty rate of 19.3; ages 15 to 19 had a poverty rate of 18 per cent; and ages 20 to 34 had a rate of 12.6 per cent. Adults 35 and older had a poverty rate of less than 10 per cent.
Households living in poverty jumped from 5.3 per cent in 2001 to 8.7 per cent in 2013, the report continued, with 42 per cent of Bahamian households headed by women.
According to HES data, the annual expenditure for Bahamian households is $53,124. Of this figure 30.5 per cent is spent on housing and utilities, 11.4 per cent on transportation and 14.9 per cent on food and beverages.
Large households with seven or more persons had the highest poverty rate, 32 per cent, with rates correlated to size. One person households had a 1.9 per cent rate, and households with four persons had a poverty rate of 9.9 per cent.
Common-law households had the highest poverty rate at 17.9 per cent and widowed households the lowest at 5 per cent.
According to the HES data, Haitian nationals had the highest poverty rate at 37.7 per cent, as well as Haitian-led households at 27.9 per cent.
Bahamian nationals had a poverty rate of 11.1 per cent and nationals of Canada, the United Kingdom and the United States at 3.4 per cent.
The poverty rate is reportedly highest in the Family Islands at 17.2 per cent, and the lowest in Grand Bahama at 9.7 per cent. The poverty in New Providence is at 12.6 per cent.
The new report follows a recent announcement by Labour minister Shane Gibson on the government's consideration to increase the national minimum wage by year end.
Outside Cabinet yesterday, Mr Gibson said: "There are employers who would have refused to increase employees' salaries after minimum wage was introduced some years ago, and I just think it's unconscionable when you look at how the cost of living has increased over the years, and for employees to still be making only minimum wage over all these years – something must be wrong with that."
Private sector minimum wage is $150 per week for a gross annual pay of $7,800 – less than $5,000 above the poverty line. Public sector minimum wage earn $10,920 in gross annual pay at a rate of $210 per week.
Last year, an IDB study revealed that the poorest Bahamians would face an 11.2 per cent spending/disposable income cut over 10 years as a result of Value-Added Tax (VAT) if no "social safety net" is provided, with poverty levels increasing in line with the tax rate, according to Tribune Business.
When asked how important a hike in minimum wage would be to the implementation of Value-Added-Tax, Mr Gibson said: "I don't see the correlation. Right now my concentration is trying to get the social partners to meet to consider increasing the minimum wage. He said: "It's important to all those persons, those tens of thousands of persons who are still being taken advantage of still making minimum wage and have a difficulty meeting their present obligations."
The Household Expenditure Survey was conducted February 11 to March 31 last year with more than 2,000 households surveyed randomly from all of the major islands.
The survey data will be used to guide economic and social planning for the ongoing reform of the National Social Safety Net Programme. It will also be used to revise the Consumer Price or Cost of Living Index, and provide estimates on private consumption in the calculation of the Gross Domestic Product (GDP).