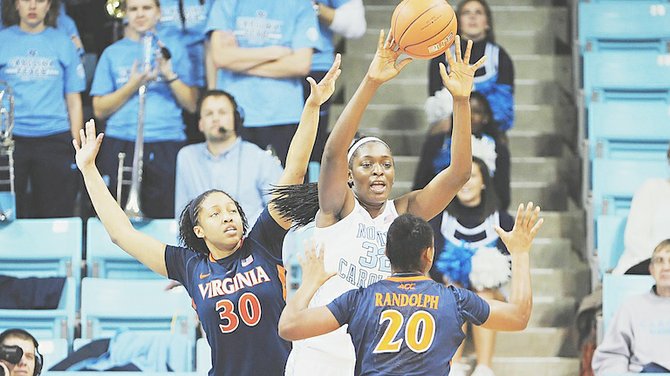 By BRENT STUBBS
Senior Sports Reporter
bstubbs@tribunemedia.net
IT was a bitter pill for Waltiea Rolle when she was cut by the Minnesota Lynx just before the start of the Women's National Basketball Association (WNBA) 2014 season.
The 23-year-old 6-feet, 6-inches center was looking forward to making an impact on the Lynx as they were preparing to begin defense of their WNBA title. But after playing in their first three exhibition games, Rolle found herself missing a spot on the final roster when the season when she was waived on May 14.
Two days later, Minnesota opened the regular season with an 89-77 triumph over the Washington Mystics in Washington. The Lynx are currently leading the western conference with a league leading 8-1 win-loss record after they had a seven game winning streak snapped by the Seattle Storm on June 6.
"I felt I did a pretty good job," said Rolle in an exclusive interview with The Tribune over the weekend as she reflect on the disappointment of not breaking the barrier yet as the first Bahamian to play in the WNBA. "As far as the exhibition season goes, I was the leading scorer in the first game and I think I played better than the girl whom they chose over me, especially since she wasn't even there for one of the three games.
"I went out there and did everything that they asked me to do, so it really hurt me when they told me after the final practice that I was not on the team."
Drafted with the 36th pick in the 2013 draft by the Lynx, Rolle opted to play in Europe to gain some experience as she completed her graduation at the University of North Carolina before she ventured into the WNBA. But after getting released, Rolle said she went through a really tough time.
"It was tough, but I know it's going to help me when I prepare to try out for another team," said Rolle, who still have aspirations to play in the WNBA. "It's good to know the things that I need to work on for the next team that I try out for. It still bothers me, but you have to move on. You can't really fret about it. It's only going to make me stronger."
As she departed, Rolle said the coaching staff advised her to be more patient in the post and quicker on the defensive end. But offensively, she didn't lack that much skills, having led Haskovo 2012 in the Bulgaria League. Through 20 games and 27.3 minutes per game on the court, she shot .504 from the field and .783 from the three throw line for an average of 14.1 points per game. Rolle also averaged 9.2 rebounds and 1.95 rebounds.
For the Lynx, she came off the bench and in 23.30 minutes, led in scoring with 17 points and five rebounds in their 82-66 triumph over the Australian National Team on May 5 in Minneapolis. On May 9 in their 72-64 win over Phoenix Mercury in Orlando, came up with just two points and two rebounds in 11.19 minutes. And in her final game on May11 in Orlando again, she produced two points and six rebounds.
In hindsight, Rolle said if she had to do it all over again, she probably would have still made the trek to Europe before she pursued the WNBA.
"I would have made the same decision because if they are saying that I need some things to work on, it probably would not have been any better until I get there," she reflected.
With her hopes dashed for the time being, Rolle is home relaxing with her family (her parents are Maxwell Rolle and Donns Rolle nee Hepburn) and spending some quality time with her three-year-old daughter, Carlisa. But she's not resting on her laurels as she work on improving her game. She's going to spend some time training with Marvin Henfield until she return to Europe in August, if she doesn't get a call from any of the WNBA teams to finish up the season.
"I have a lot of offers, better than what I got last year because I already had some experience and a lot of teams are looking at me," she pointed out. "But I haven't had a chance to narrow it down to any team yet. I am still looking at all of the options that are available.
"The WNBA is also still an option because at any time, any player could get hurt and they need a center. A lot of teams know that I got waived from the Lynx, so it's possible that I could get a call at anytime from any one of the teams. So I'm just waiting to see what will happen."
After she got waived by Minnesota, Rolle said she was still anticipating that she would have been picked up by another team, but after the season started and she wasn't called, she just decided to move on.
"At least by me playing in the exhibition games, it will open the door for me to play with some other team in the WNBA," Rolle projected. "So it's not a really bad thing. It could have been worse. They didn't have to draft me and they didn't have to allow me to play in the exhibition games. I got the opportunity and I'm thankful for that. It's just disappointing that it didn't work out."
As she wait to see if she will eventually get her chance to play in the WNBA, Rolle said she's even looking at the possibility of playing in China or Korea where the deals are much more lucrative than it was in Europe. Of course, she admits that it doesn't compare with the WNBA.
"At least I have my foot in the door because a lot of the WNBA teams now know about Waltiea Rolle," she quipped. "So although I didn't get selected by the Lynx, at least I have a chance to play with any other WNBA team. I was already in the door, so I just have to wait."
As for the experience of plsying with and against some of the best plsyers in the world in the exhibition games, Rolle said it was fun.
"It was pretty awesome, pretty cool," she summed up. "One of the most important things I learnt was that I need to go 110 percent."
For those Bahamians who also aspire to play in the WNBA, Rolle gave this sterned warning:
"At first when you get there, you might get relaxed, but you can't relax. You have to go in there and give it your all and just hope for the best," she explained. "Don't give up."
While she's not giving up on her dream, Rolle said she's more "determined" than ever to get into the WNBA.
In the meantime, she said she's enjoying her trip home, eating a bowl of peas, soup and dumpling, drinking some ice tea and mystics and indulging in a slice of cheesecake whenever she can get it or taking part in her hobby of watching a good movie like 'Love and Basketball.'
Talking about basketball, Rolle said she wouyld love to play on the women's national team that will represent the Bahamas at the Centro Basket Tournament in Tortols, British Virgin Islands from July 6-13. But right now, she's trying to concentrate on getting her pro career off the ground.
"I have a lot of contracts in the front of me so I really don't want to risk anything," she said. "I can get a call any day and I don't want to leave the team hanging. That's the way of life. That's how it is. I would like to plsy, but I really have a lot to consider over the next few weeks."
The biggest, she lamented, is where she will end up playing in the near future.