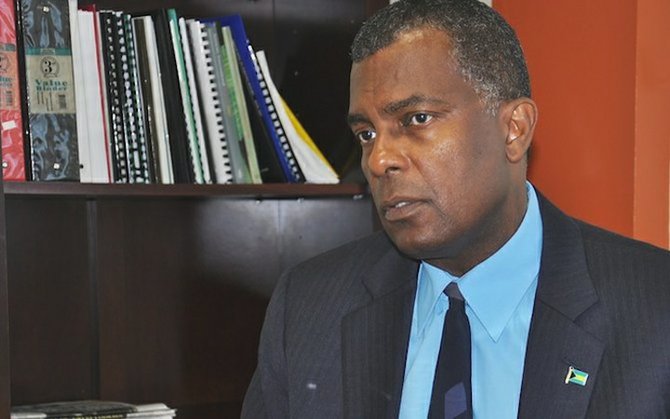 By KYLE WALKINE
Tribune Staff Reporter
kwalkine@tribunemedia.net
FOREIGN Affairs Minister Fred Mitchell said yesterday that public opinion on the issue of MPs getting a raise and a new Parliament is "wrong" and "pure foolishness".
He called the existing Parliament structure a "dump" and lamented the fact that members of Parliament have virtually no privacy from the public inside the facility.
The Fox Hill MP, during his contribution to the 2014/2015 budget debate, defended recent recommendations from a Parliament select committee for the construction of a new Parliament and an independent review of MP's salaries and allowances.
He said the recommendations are "sensible and reasonable", despite there being criticism from the public and the opposition that there are more pressing issues in the country to be dealt with besides parliamentarians getting a raise. 
Mr Mitchell said when it comes to a new Parliament, allowances and increased salaries for MPs, people will always say it is not the right time.
Mr Mitchell insisted there are too many people within the public domain over-exaggerating the issue saying, "For the Lord's sake; for the love of God, let's stop carping and complaining and get on with it. Just do it.
"(There's) too much talk about this. Just do it. 
"It does not mean that because you are planning various matters or discussing various items that you cannot also take care of other needs," the MP added. 
"It is not a zero sum game. You can walk and chew gum at the same time. Or as someone else said, you can praise God and pass the ammunition."
Last month, National Security Minister Dr Bernard Nottage read a report by a committee comprised of both Progressive Liberal Party (PLP) and Free National Movement (FNM) MPs requesting that parliamentarians' salaries and allowances be reviewed. The report also suggested that a new Parliament complex be built.  
According to Mr Mitchell, since the report was delivered there has been much ill-informed and inaccurate commentary.
"I constantly ask myself what the heck is wrong with some folk in this country," the MP said, questioning the basis for the public's argument. 
One of those in disagreement with the raise was Democratic National Alliance (DNA) Leader Branville McCartney, who stressed that parliamentarians should not be seeking a raise when other hard working and deserving citizens should be the first to get a raise. 
However, The Fox Hill MP said some MPs spend their time "begging for money" to maintain their constituency. 
"Most MPs today are subsidising their offices out of their pockets," he said. "That is simply wrong."
Mr Mitchell continued his argument for a new Parliament saying, "Look at this place. It is a dump.
"The staff is sitting upon one another, packed in like the poor, three to a bed. The bathrooms are shared with the public and the members and the staff. The facilities for the press are inadequate. No offices for members and no privacy when meeting constituents. It is impossible.
"It is disgraceful that in 2014 we are still in a building built to reflect the choices and styles of a country in the early 19th century in 2014 and we say that this reflects what we are today. If this is what reflects what we are today, we are in a sad state. I say it does not and we need a new building."
Last month Deputy Prime Minister Philip Davis said giving politicians a raise would remove the temptation of them doing wrong. 
The House Speaker has an $80,000 a year salary while his deputy receives $32,000. An MP's salary is $28,000 a year.
Parliamentarians have not received a raise in 25 years.