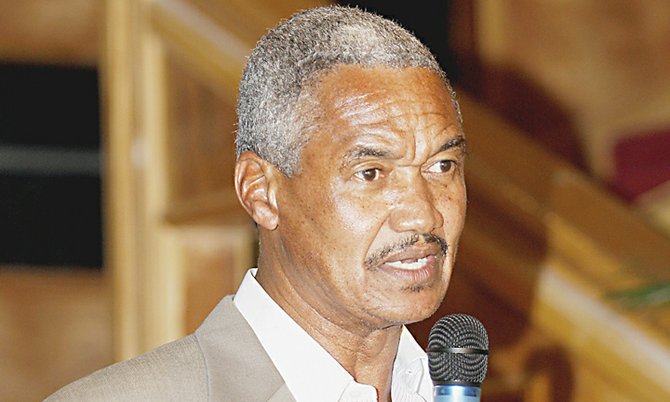 By KYLE WALKINE
Tribune Staff Reporter
kwalkine@tribunemedia.net
UNION leaders who represent employees at the Bahamas Electricity Corporation are "blood suckers" who are only worried about filling their pockets, even if it comes at the cost of the Bahamian people, the company's Executive Chairman Leslie Miller said yesterday.
Mr Miller told The Tribune that while he doesn't usually get involved in arguments with unionists, he must defend BEC customers who he says are the ones feeling the brunt of employees' greed. He said BEC is on course to lose up to $30 million this year.  
"I don't pay much attention to those union fellas. They are devoid of a conscience," Mr Miller said speaking of what he calls the union leaders' drive to suck all the money out of BEC. 
"I see them all about talking about fuel this and fuel that, when the real problem at BEC is the salaries being paid out. The payroll is killing BEC and they know it. But still they insist on getting paid extra money all the time for doing the same seven hours of work."
According to Mr Miller the corporation paid out an extra $129,000 last week to customer service representatives that were placed on a noon to 7pm shift. 
"What we did was instead of just having all of them work nine to five was we placed some of them on a shift that would better accommodate our customers that get off at 5pm," he said. 
"There are some people who knock off from work around that time and may come home and meet their power off because they weren't able to pay their bill. So we put those customer service reps on shifts until 7pm to give those people a chance. Do you believe we have to pay them extra for working the same seven hours a day that they normally do? We're not making them work longer. We just changed the times. We had to pay out $129,000 for that last week."
Mr Miller said it was those same customer service agents that were given a productivity rating of less than 50 per cent last year.
"We have people in that area making as much as $89,000 a year," he said. "We also have supervisors for the cashiers taking home over $60,000 a year. Some of those same people got over $6,000 for that 12 to 7 exercise."
According to Mr Miller, employees are being paid between $75 to $100 extra for working the noon to 7pm shift. 
Last week Bahamas Electrical Utility Managerial Union (BEUMU) President Clinton Minnis and Bahamas Electrical Workers Union (BEWU) President Paul Maynard expressed their disappointment after Mr Miller blamed customers' high electricity bills on the employees. 
However, Mr Miller questioned who else would be to blame. "All I'm saying is that there are customers with bills as high as $5,000," he said. "Who was supposed to be holding them accountable for their increasing bill for it to get that high? You have some people who haven't paid their BEC bill in over six months. All I'm saying is that it was the gross negligence of the workers for letting them run up."
Since his appointment at BEC, Mr Miller has been embroiled in several public spats with unions representing workers at the corporation, specifically over overtime pay and "double dipping" which allowed employees to collect sick pay and benefits from National Insurance Board (NIB).