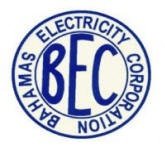 By SANCHESKA BROWN
Tribune Staff Reporter
sbrown@tribunemedia.net
BAHAMAS Electrical Workers Union President Paul Maynard yesterday blamed BEC chairman Leslie Miller for the corporation's current financial problems.
Speaking with The Tribune, Mr Maynard said that Mr Miller, not the union, is the reason BEC is still operating at a loss. In fact, he said, Mr Miller is more concerned about being "popular" by keeping lights on rather than doing what is right for the corporation.
"Mr Miller thinks that he runs BEC from top to bottom. If he would allow BEC's customer service representatives to function properly things would be fine. He keeps running back and forth telling the staff to turn customers lights on when they are turned off.
"Everyone who cries to him about their lights being off he orders the staff to turn it back on and these people aren't paying anything and then the staff is scared to turn it back off because Mr Miller does not know how to speak to his staff," he said.
"Some of these people owe $5,000 and we are ordered to turn their lights back on. He keeps interfering with the day-to-day running of BEC and that should not be. That is why everything is out of whack, he needs to sit his hip down and let people do their jobs. If he would allow the Customer Service reps to function as they are supposed to function everything would be fine.
"But he is a jackass and his behaviour is boorish and unbecoming of a father and grandfather. He needs to interact with the staff and not attack the staff, but he does what he wants at no consequence."
Last week, Mr Miller blamed customers' high electricity bills on the employees. He said the corporation paid out $129,000 last week to customer service representatives that were placed on a shift system, some of whom, he said, are making $89,000 a year.
However, Mr Maynard said it is Mr Miller's fault the corporation had to pay the money because he is the one that decided to implement the shift system.
He said: "He came in here and decided he didn't want to pay any more overtime, so he put them on a roster. According to our contract, you have to pay an employee an extra $75 a week, if you want them to work a shift. The reason the corporation paid out all that money last week is because Mr Miller refused to pay the money he owed in the first place, so that was back pay.
"The real reason BEC is having problems as well is because the corporation owes $130 million to Shell West. It is the fuel that has BEC in a crisis, not the employees. Blue Hill uses diesel compared to Clifton that uses bunker sea and that is expensive."
According to Mr Miller, BEC is on course to lose up to $30 million this year.