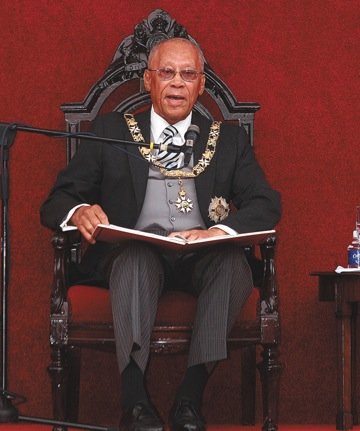 By AVA TURNQUEST
Tribune Staff Reporter
aturnquest@tribunemedia.net
GOVERNOR General Sir Arthur Foulkes will officially demit office next month, according to a government source.
Sir Arthur, 86, and Lady Foulkes will leave for London on Saturday. On June 26 Sir Arthur, accompanied by his wife, will call on Queen Elizabeth at Buckingham Palace for the customary farewell visit before demitting office.
In his absence, Dame Marguerite Pindling, who is his deputy, will act as governor. Dame Marguerite was said to be the front runner as his successor.
Sir Arthur, a veteran journalist, was sworn in as the country's eighth Governor General on April 14, 2010. He was praised for his political and social activism by former Prime Minister Hubert Ingraham during the ceremony.
Sir Arthur was one of the founders of the National Committee for Positive Action, a think tank and activist group within the PLP that supported the leadership of Sir Lynden Pindling, and contributed significantly to the achievement of Majority Rule.
He drafted the PLP's petition to the United Nation's Committee of Twenty-Four, on decolonisation, and was a member of the delegation that presented the petition in 1965.
Sir Arthur penned many political documents and contributed to the manifestos of both major political parties. 
He was one of the Dissident Eight, who rejected the leadership of Sir Lynden in 1970 to become a founding member of the Free National Movement in 1971. Notably, he drafted the FNM's first platform that year.
In his early years, the Mathew Town, Inagua-native first worked at The Nassau Guardian as a linotype operator and proof-reader. He joined The Tribune as a linotype operator in 1948 and ascended the ranks to become news editor under the tutelage of then-Editor and Publisher Sir Etienne Dupuch. From 1962 to 1967, he served as the founding editor of The Bahamian Times, the official organ of the PLP.
Last night, former parliamentarian George Smith denied knowledge of Sir Arthur's pending resignation, adding that the speculation surrounding his "dear and life-long friend" was a great disservice. 
He said that although he was aware of Sir Arthur's upcoming meeting in London, the event did not automatically indicate a resignation.
"I think that we do the country and the office of Governor General a great disservice, and this particular occupant a great disservice, by encouraging speculation," Mr Smith said. "Sir Arthur has performed in the office in a stellar way, and I think that his departure – whenever that is to be – shouldn't follow rumours about people who would wish to see him go, based on speculation as to who is to be or wishes to be his successor.
He said: "He deserves all the courtesy and all the honour that not only the office requires but he personally should receive."
Mr Smith added: "(Sir Arthur) brought poetry to the office of the Governor General, his language. So whenever he leaves, before he demits, I hope he summons all journalists and tells them how lofty and noble the profession is."