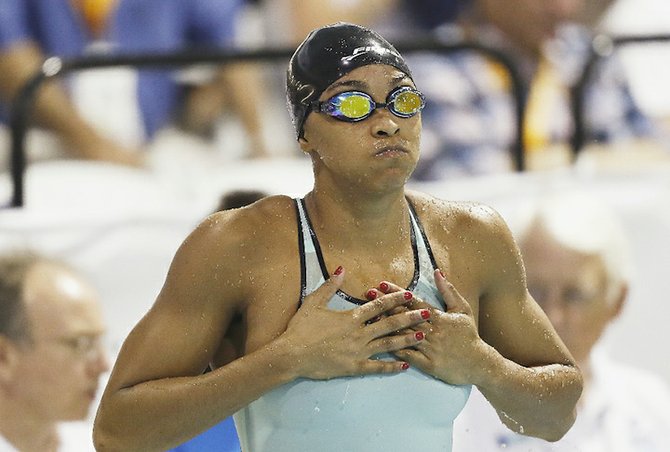 By BRENT STUBBS
Senior Sports Reporter
bstubbs@tribunemedia.net
When the Bahamas Olympic Committee ratifies the team for the Commonwealth Games next month in Glasgow, Scotland, the Bahamas Swimming Federation is hoping to have five swimmers included.
The federation has submitted the names of Arianna Vanderpool-Wallace, Vereance Burrows, Ariel Weech, Joanna Evans and Dustin Tynes, all of whom have surpassed the qualifying standards in their respective events, as prescribed by FINA, the governing body for the sport.
Andy Loveitt, a coach with the Swift Swimming and one of Vanderpool-Wallace's personal coaches, will be accompanying the team. Loveitt coached both Tynes and Evans when they represented the Bahamas at the World Junior Swimming Championships in Dubai last year.
"That team has not yet been ratified by the BOC, but we expect that full team to be participating in the Commonwelth Games this summer," said BSF president Algernon Cargill, a former vice president of the BOC.
All five swimmers were in action over the weekend at the Betty Kelly Kenning Swim Complex as the federation hosted its 2014 Royal Bank of Canada National Swimming Championships.
Vanderpool-Wallace led the way as she, Evans and Tynes competed for Swift Swimming, who dominated the championships for the fourth consecutive year, winning by almost 1,000 points ahead of arch-rival Barracuda. Burrows competed for the Freeport Aquatic, while Weech represented Alpha Aquatics.
In the three events she competed in, Vanderpool-Wallace established national records in winning the girls 15-and-over 100 metre butterfly in one minute and 02.48 seconds, the 50m butterfly in 26.71 and the 50m freestyle in 25.40. She also emerged as the sixth highest scorer in the individual standings in her category with 36 points.
"I just came from a meet in France about two weeks ago and I had a chance to compete against some of the girls that I will be competing against at the Commonwealth Games," Vanderpool-Wallace said. "So competing against some of them was really exciting for me.
"I learn from some of them because the fastest 50m fly (competitor) was there and I learnt some things from her. So I'm really excited about going to Glasgow. I just hope to go there and swim fast. I know I still have some things to work on, but I hope to be right there when the competition gets underway."
Based on the world rankings, 24-year-old Vanderpool-Wallace is currently ranked at No. 8 in her specialty in the women's 50m free and fifth in the 50m fly, the two events she intends to contest at the Commonwealth Games in Glasgow.
"Out of the people going to Commonwealth, that should put me in the top three and top four, so it's definitely a possibility of me winning a medal," Vanderpool-Wallace said. "It's just a matter of me putting my head down and working on all of the little things that will make the difference."
Since graduating from the University of Auburn last year, Vanderpool-Wallace has been training with Mireau and competing on the newly formed Grand Prix circuit for swimmers, similar but smaller than the ones the track and field athletes are engaged in.
"It's been rocky at the beginning," she said. "I had to wrap my head around just being a professional swimmer all the time. But I'm definitely excited and I'm really gutting it out more so than I did in September, so I'm excited moving forward, now that I've settled down and training."
For the first time when she goes to the Commonwealth Games, Vanderpool-Wallace, a two-time Olympian, will actually have another Bahamian entered in the same events that she will be contesting. Weech, 22, has qualified to compete in both the 50m free and 50m fly.
"I'm happy about that because it gets really lonely being the only Bahamian in my event," Vanderpool-Wallace said of Weech. "It's going to be a little more motivating because she will be able to help push me and I will be able to help push her as well. We're all really good friends. We all hang out and joke around, so it's going to be really nice to have her and the other swimmers there."
Although she had to play second fiddle to Vanderpool-Wallace in their head-to-head match-ups in the 50 and 100m free, Weech said she produced some lifetime best marks, which gave her a lot of confidence in her training at the University of Nebraska, where she recently graduated from, as she gets ready for Glasgow.
"I need to work on my race preparation a little more," she said. "It's been hard to concentrate on that because I had to swim so many races here. The weather and the pool wasn't the best, but I just need to get some rest and hopefully I will be ready. I've been working on a lot of the small details all year, so I just need to rest, taper a little bit and everything should come into place."
And having Vanderpool-Wallace in the same line-up with her is something that has Weech even more hyped up for the trip.
"She's one of the top in the world right now and I look forward to moving up there as well, so I just think it will be good for the Bahamas to have both of us competing," said Weech, who intends to travel to Barbados this week with the 30-member team to the Caribbean Islands Swimming Championships.
Like Vanderpool-Wallace, Burrows, the oldest member of the team at 25, finds himself ranked in the top 10 in his specialty in the men's 50m fly in the world. And with the list of competitors, who are expected to travel to Glasgow, Burrows should be a contender for a medal as well.
"Right now, I need to focus on the finer details of my techniques and really just work on resting and getting prepared mentally," he said. "So I will be ready by the Commonwealth Games. I have to work on my technique for the butterfly and making sure that I can hold my breath for the entire race. Not many people do, but that's how I train.
"At this meet, my underwater kicks were really good, so I'm really excited about that. We just have to get the last part of the race on point and I should be ready to go."
As for his performances in the nationals over the weekend where he missed out on lowering the national record, Burrows said he was pleased with what he did, considering the fact that he made a few adjustments to his training and it paid off.
"I'm swimming much faster this year than I was last year," said Burrows, who intends to head to Orlando, Florida, to continue his training in preparation for Glasgow.
Evans, a native of Grand Bahama, who at 16 will be the youngest member of the team, was the highest achiever in the girls 15-and-over division with 81 points. She noted that the nationals really helped to prepare her for her first major senior international meet.
"I just have to go back to practice and move on from there," she said. "I just have to try and do my best times and see what happens. It's just back to practice, trying to get stronger and faster so I can be able to hold my times for a lot longer. So I'm going to keep practicing so I can get better."
And Tynes, the newest member to international prominence, said his goal is to accomplish as many best times as possible in the 50m, 100m and 200m breastroke. The 17-year-old was tied with Burrows for the fourth most points accumulated at the nationals in the boys 15-and-over category with 34.
"Over the next few weeks, I just have to continue to put in the work and hopefully I can get one or two national records," Tynes said. "This is like my dream meet, so I just want to swim fast enough and enjoy the experience. I just have to execute my races and not worry about everybody else."
On his return from Glasgow, Tynes said he also expects to travel with Evans to the Youth Olympic Games in Nanjing, China, August 16-28. But Tynes said he's excited that he will have some swimmers who would have had some international exposure competing on the team going to the Commonwealth Games.
"I don't know what I would do if I was on this trip alone," Tynes said.