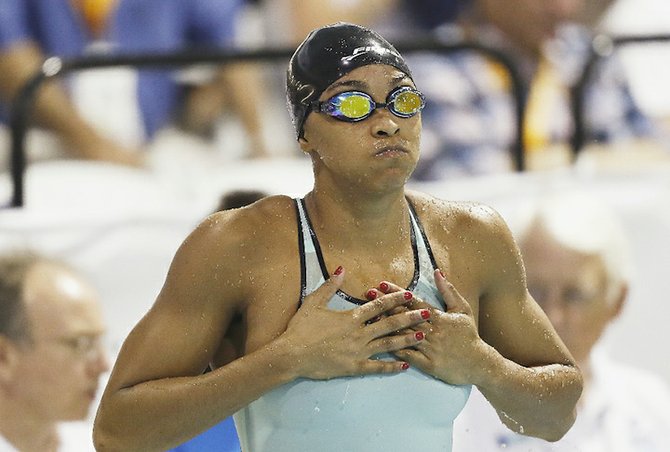 Arianna Vanderpool-Wallace
Stories this photo appears in:

VETERAN swimming sensation Arianna Vanderpool-Wallace, preparing for her third appearance at the Olympic Games, is not quite where she wants to be going into Rio de Janeiro, Brazil.

TWO finals for Arianna Vanderpool-Wallace but she missed out on cashing in on a trip to the podium at the 16th FINA World Championships in Kazan, Russia.

After watching the team perform two weeks ago at the Pan American Games in Toronto, Canada, Bahamas Swimming Federation president Algernon Cargill is eager to see how well the Bahamian swimmers will perform at the FINA World Swimming Championships next week in Kazan, Russia.

WHEN the Bahamas Swimming Federation hosts its Royal Bank of Canada National Swimming Championships at the Betty Kelly Kenning Swim Complex this week, look for Arianna Vanderpool-Wallace to be among the top stars making a splash.

ARIANNA Vanderpool-Wallace, the Bahamas Swimming Federation's 2014 Swimmer of the Year, is having another sensational season so far this year as she competes in the 2014-15 Arena Pro Swim Series in the United States.

ARIANNA Vanderpool-Wallace is proof that hard work pays off.

Arianna Vanderpool-Wallace made Bahamian history yet again and Joanna Evans continued her torrid pace on the year with another medal in international competition.

Bahamian swimmers got off to a flying start to start day two of the competition at the 20th Commonwealth Games this at the Tollcross Swimming Centre in Glasgow.

WITHOUT the inclusion of some 30-plus members of the athletic team, the Bahamas Olympic Committee released the names of 18 athletes from five other disciplines that have been ratified for the 20th Commonwealth Games in Glasgow, Scotland, July 23 to August 3.

When the Bahamas Olympic Committee ratifies the team for the Commonwealth Games next month in Glasgow, Scotland, the Bahamas Swimming Federation is hoping to have five swimmers included.

Arianna Vanderpool-Wallace was just shy of her Bahamian women's national 50 metres freestyle record, but her latest performance in one of her two victories over the weekend plunged her into the top 10 SwimVortex rankings in the world.