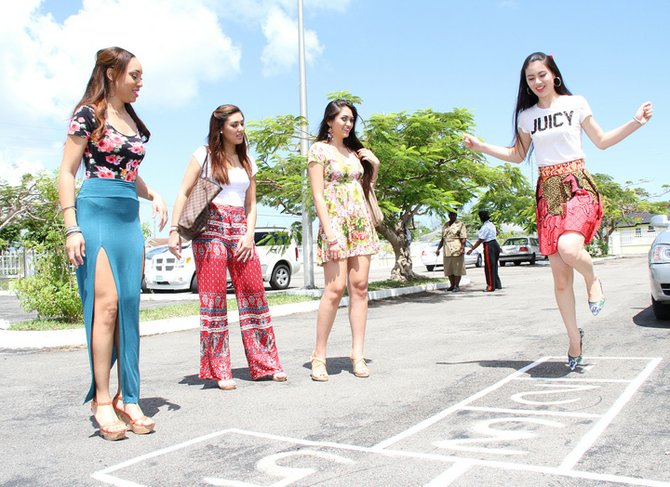 By KYLE WALKINE
Tribune Staff Reporter
kwalkine@tribunemedia.net
SIX beauty queens from around the world have arrived in The Bahamas for a week of fun and charity, all part of the vision of this year's Miss Bahamas Earth, Vandia Sands. 
The international beauty ambassadors made their first stop at the Nazareth Centre, a children's home in Millennium Gardens yesterday, where they took a tour of the home and met some of the children. They have been invited by Ms Sands, who is fulfilling a New Year resolution to bring her former fellow contestants to show off her home country.
The Nazareth Centre, which is home to 47 children aged 12 and under, was designed to provide a safe home for children who have been hurt or abused.
The home's administrator, Fiordelisa Bain, said it joys her heart to see the children smiling and having fun. 
"It does my my heart well when I see these children enjoying their life," Mrs Bain told The Tribune. "That lets me know that I'm doing my job."
"I don't like to talk about their situation and why they came here. But instead I prefer to focus on making them happy and making their life enjoyable."
Once the children complete elementary school they are taken to another home until they have completed high school. 
Djoa Strassburg, Miss Earth Switzerland, said she is glad to be in The Bahamas and able to give back to the community. "I am really enjoying The Bahamas," she said. "We have been so nicely welcomed by your people. My experience as Miss Earth Switzerland has been really good, but coming to The Bahamas just makes it so much better."
Miss China Earth, Lisa Xiang Yang, a writer for a local magazine, said she's glad that this year the Chinese can travel to The Bahamas visa free, one of the recent partnership agreements between the two countries. 
"For me, I also want to promote the career of travelling," she said. "So I really want to get more Chinese people to come to this really amazing country of yours."
Ms Sands has partnered with the Ministry of Tourism to put on a busy programme of courtesy calls to the Prime Minister and Minister of Tourism, a day at Atlantis, a Family Island visit, chruch service and historical sites tour.
On Monday, Ms Sands and Miss China Earth paid a courtesy call to the Chinese Embassy. The girls head home on Monday.