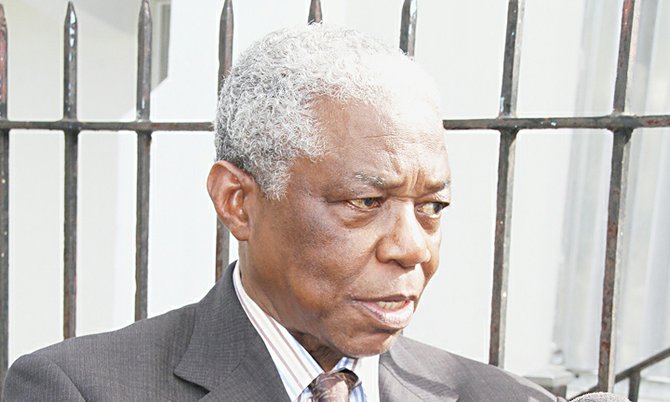 By KYLE WALKINE
Tribune Staff Reporter
kwalkine@tribunemedia.net
FNM Deputy Chairman Dr Duane Sands said yesterday he believes National Security Minister Dr Bernard Nottage should apologise for not painting an accurate picture of the country's crime problem when he gave crime statistics in the House of Assembly last week. 
Newly released crime statistics show that up to June 10, the murder rate across the Bahamas rose by nine per cent compared to the same period last year.
Last week during his contribution to the annual budget debate, Dr Nottage announced that crime is generally trending downward. He said the period of January 1 to June 10 showed a four per cent decrease in murder in New Providence compared to the same period last year. 
While Dr Nottage did note that the country had recorded 62 murders at the time of his presentation on June 18, he did not indicate the national rise in the murder rate of nine per cent. Nor did he mention that as of June 10, Grand Bahama's murder rate had doubled compared to the same period last year. 
Crime statistics up to June 10 also show that there have also been two cases of manslaughter, compared to none recorded for 2013. 
Dr Sands said the context of Dr Nottage's speech shows that he was trying to reassure Bahamians that murder was down. 
"It's unfortunate that we have to play these games in order to make a statement to reassure the public that the government is fighting crime," Dr Sands said. "Yes, the statistics may show that murder is down in New Providence. But you are not only speaking to the people of New Providence, but the Bahamas as a whole. I seriously doubt that it was an accidental decision."
The FNM deputy chairman also criticised recent statements from State Minister for National Security Keith Bell.
On Tuesday Mr Bell told The Tribune that he hopes that by 2016, as a result of policies being implemented by the government, the country would see a murder rate of 40 maximum. 
"Well, they say faith without works is dead," Dr Sands said. "I'm sure that all Bahamians hope that the murder count would decrease. However, it was this same government who, while on the campaign trail, made it seem as though the high murder rate was directly due to the FNM. It's interesting to see now how their rhetoric has changed."
Dr Sands said he is sure the Progressive Liberal Party now regrets putting up billboards in 2012 highlighting 400 plus murders under the Ingraham administration.
"At some point in time, not only these ministers, but the entire PLP Cabinet should admit to the Bahamian people that what they did was a mistake," Dr. Sands said, speaking of what he calls the PLP's false crime relief promises.
"Clearly they don't have the solutions they promised. So now, according to them, crime should no longer be talked about. Ain't that something."
Dr Sands said Senator Keith Bell's performance as state minister for national security has been "nothing short of mediocre". 
He added that Mr Bell has been more of an "impediment" than a help to Dr Nottage.