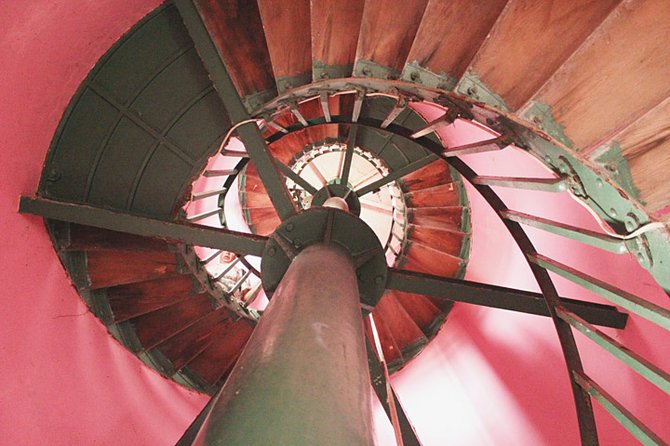 By KORTNEY RODGERS
ONE of Abaco's beloved jewels, the Elbow Reef Lighthouse, is 150 years old this week. The lighthouse, on Elbow Cay, is the last manually-operated light fuelled by kerosene in the world.
Under the theme "150 Years Of Keeping The Light On" a festival was organised by the Lighthouse Society, sponsors and volunteers to commemorate more than a century of service to the community. Tuesday's celebrations drew a crowd of nearly 1,000, with entertainment including a beer garden, local artist exhibition, an educational booth and a children's pavilion.
One of the event's co-
ordinators, Joanne Feinstein, said: "Not only is it a symbol for direction, it's a monument that has been a part of many historical industries like sponging and wrecking in The Bahamas."
Although some locals did not agree with the original building of the lighthouse in Hope Town for fear of losing their income from reclaiming shipwrecks, today they embrace it as a part of their heritage and a Bahamian treasure worthy of preservation.
The late Paul Albury, author of "The Story of the Bahamas", had a wealth of stories of the wrecking of that era and the part played by the lights from those sentinels in helping kill the trade.
"The Bahamian wreckers," wrote Dr Albury, "looked upon the erection of lighthouses with dismay. After all, they reasoned, the Lord put the reef there and he made the wind to blow and the sea to rage. Lighthouses were the works of man and, all things considered, they preferred to be on the side of the Lord.
"Nowhere were lighthouse builders more frustrated than those who went to Elbow Cay. The people of Hope Town placed every obstacle they could think of in the way. They refused to supply fresh water to the construction crew, and at night they sank the vessels loaded with building material.
"But, the work went on to completion. A few years after it began to function, lightning struck the tower one night and the inhabitants were convinced that Providence had intervened on their behalf. The next night, however, the light shone forth as bright as ever to their bitter disappointment.
"Without the Bahamian wreckers, hundreds of thousand of pounds worth of imperilled merchandise which was saved, would have been swallowed up forever by the sea. And this merchandise proved to be a great boon to the Bahamian people. There were many to say that far too little of the proceeds found its way to the rightful owners of the goods. But we must remember that except for the efforts of the wreckers the owners would have received nothing."
Visitors are able to climb the lighthouse's 101 steps to enjoy panoramic views. The Lighthouse Society and its supporters plan to "keep the light on" for many years to come.