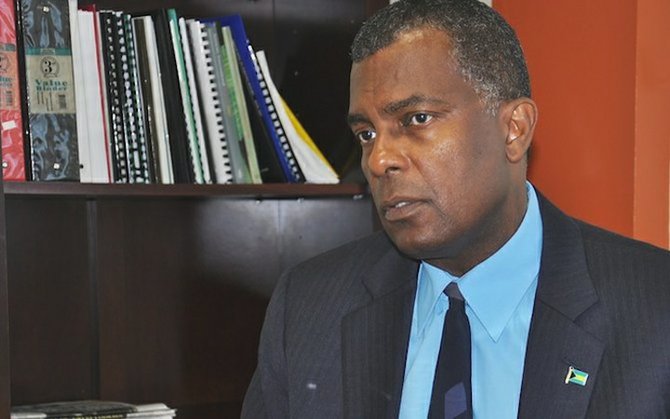 By SANCHESKA BROWN
Tribune Staff Reporter
sbrown@tribunemedia.net
MINISTER of Foreign Affairs Fred Mitchell yesterday accused Dr Myles Munroe of being "ignorant" and "anti-PLP" after calling for Prime Minister Perry Christie to remove him from his ministerial post.
Mr Mitchell's comments came after Dr Munroe said in other media reports that Mr Mitchell should keep his LGBT (Lesbian, Gay, Bi-sexual and Transgender) comments to himself because they do not "represent the majority of the convictions of the Bahamian people".
"Ignorance is a strange thing," Mr Mitchell said. "I do not want to get into a tit for tat with him but he misinterpreted what I said and he did not understand. He has an agenda which I assume suits his purpose. I believe that a full considered statement will be made by me at some point but people are entitled to their views and that is his view.
"I do not want the press to misconstrue what I said and say it is my personal view. As a matter of fact, people do not know my personal view because I have never stated it. What I did state was a clear and existing policy that exists in this country. What he (Dr Munroe) draws from, that is his own opinion. What is interesting is that when former Prime Minister Hubert Ingraham made his comments, which went far beyond anything I said, Myles Munroe was silent. This is an anti-PLP thing, that has to be what this is about and lacing it with all these nasty innuendos does not help his case either."
Last month, Shadow Minister for Foreign Affairs Hubert Chipman also said Mr Mitchell should not have shared his views on LGBT rights while in Trinidad and Tobago. To that Mr Mitchell called Mr Chipman 'homophobic", claiming that his types of comments "unleash a torrent of abusive language in this country".
Mr Mitchell has publicy declared his support for the gay rights cause on numerous occasions, calling it part of the ongoing fight against all forms of injustice around the world.