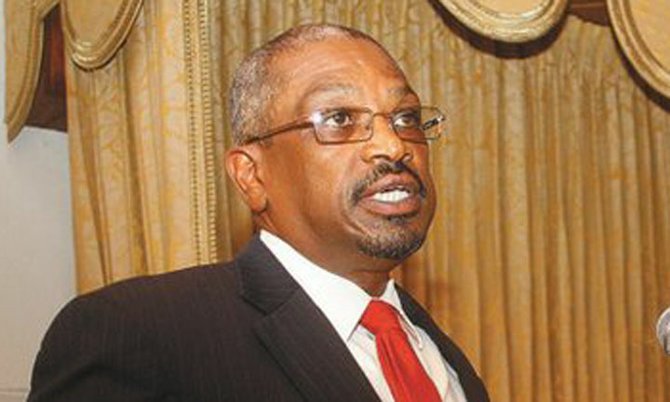 By AVA TURNQUEST
Tribune Staff Reporter
aturnquest@tribunemedia.net
OPPOSITION Leader Dr Hubert Minnis yesterday said the government should call a general election if it planned to go against the January 2013 referendum on web shops.
Dr Minnis charged that any decision to revert from the referendum would signal a shift from democracy to dictatorship, hitting out at recent statements by several cabinet ministers that the legalization of number houses should be reconsidered.
He maintained that the official position of the Free National Movement remained unchanged despite the personal views expressed by its chairman Darron Cash.
Speaking outside of the House of Assembly, Dr Minnis said: "The people spoke, and we're (FNM) on the side of the people. You (government) can not have a referendum and then ignore what the people say, because what does that say for future referendums? Once the people have spoken, then we follow what the people have said."
Dr Minnis said: "Many PLPs during the entire ordeal remained quiet, the Prime Minister was the one doing all the talking. If they had something to say they should have said it then, why now come out and speak?"
Less than half of the country's registered voters participated in the January 28, 2013 referendum.
There was an overwhelming "no" vote to both questions on the ballot.
The first question read: Do you support the regulation and taxation of Web Shop gaming? 
The second question read: Do you support the establishment of a National Lottery?
In an interview with The Tribune, Mr Cash called for the government to make the "tough decision" to move forward with bi-partisan discussions on web shops, adding that shutting down the unregulated businesses should no longer be an option.
Mr Cash's statements follow declarations by Gaming Minister Obie Wilchcombe in December that web shop gaming is "not off the table" and is still up for discussion.
At that time, Mr Wilchcombe said he had started a series of meetings with religious leaders and those with interests in gaming in an effort to reintroduce the discussion of web shop gaming in 2014.
Since then, the Christian community has been divided over the issue.
Last month, pastor Lyall Bethel, of Grace Community Church, said religious leaders calling for gambling to be legalised in the Bahamas are at odds with the Christian Council.