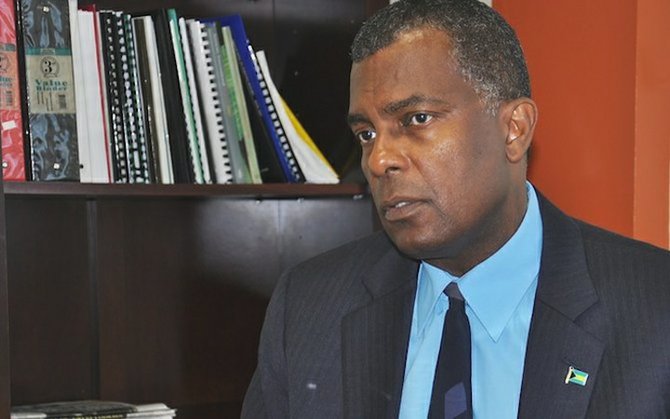 By KHRISNA VIRGIL
Tribune Staff Reporter
kvirgil@tribunemedia.net
FOREIGN Affairs Minister Fred Mitchell yesterday branded as "misplaced, ill conceived and deceitful" a letter from Bahamas Faith Ministries President Dr Myles Munroe to Prime Minister Perry Christie.
In the letter, Dr Munroe urged Mr Christie and the delegation accompanying him at the Caribbean Community and Common Market (CARICOM) Heads of Government meeting not to sign onto anything that goes against the moral code of Bahamians. Dr Munroe was speaking to his congregation on Sunday when he revealed the content of his letter to the Prime Minister.
However, Mr Mitchell told The Tribune that neither he nor Mr Christie had seen the letter of which Dr Munroe had told his parishioners.
Both men, with Labour Minister Shane Gibson, Financial Services Minister Ryan Pinder, High Commissioner to CARICOM Picewell Forbes and other officials are attending the meetings at St Vincent and the Grenadines. The meetings officially started yesterday.
"The PM has not seen it," Mr Mitchell said, "and I have no idea of its content save what was quoted of him in the morning press. It comes off as political histrionics on his part.
"The Myles Munroe letter is entirely misplaced, ill conceived and deceitful," Mr Mitchell added.
On Sunday, Mr Mitchell released a press statement in which he said Dr Munroe had been informed of the CARICOM agenda. The issue of lesbian, gay, bisexual and transgender individuals was not included. For the past few weeks the two men have been at odds over the rights of the LGBT community.
A priority at CARICOM, however, was "advancing the regional agenda for sustainable development using information and communication technologies."
Other items, included preliminary discussions on the use of marijuana for medical and health purposes and issues of reparation for native genocide and slavery. Criteria for membership governing the Dominican Republic is also to be discussed.
"Once again," said Mr Mitchell, "Dr Myles Munroe has returned to a theme he does not understand and obviously which he has no knowledge. How else can his behaviour be explained?
"The law is clear and transparent and so is the United Nation's declaration on Human Rights to which the Bahamas is a signatory. As a Minister of the Government, I am legally bound by the laws of this country and policies of the Government.
"Further, the Government released the agenda items for the CARICOM Heads of Government meetings in St Vincent and the Grenadines of which Dr Munroe was copied.
"It is, therefore, incredible that this absolute stupidity and wilful deceit is parading around in the pulpit disguised as theology. It is disgraceful and I will not kow-tow to foolishness," Mr Mitchell said.
Mr Christie and the delegation, (except for Mr Gibson who goes to Panama after the meeting) are scheduled to return to the Bahamas tomorrow.