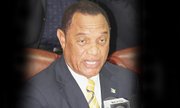 By AVA TURNQUEST
Tribune Staff Reporter
aturnquest@tribunemedia.net
THE government is still undecided over the implementation of Value Added Tax, Prime Minister Perry Christie revealed last night.
In his closing remarks on the mid-year budget, Mr Christie said the final decision will not be made until officials have completed talks with the public and private sector.
He added that the rate will not be as high as 15 per cent.
Mr Christie said: "As to the rate of VAT, I can assure you that it will not be as high as 15%. But the actual rate is not settled yet although I expect it will be in the very near future along with the final list of exemptions as well as the date for the introduction of VAT.
"I want to emphasize, therefore, that the VAT position I have outlined is not cast in stone. It is not yet a foregone conclusion.
Mr Christie said: "My Government has clearly demonstrated its openness to entertaining varying proposals from the public on VAT and alternative sources of revenue. We will therefore await the outcome of the study being conducted on behalf of the Coalition for Responsible Taxation."
Last night, parliamentarians passed bills to amend the Excise Act and the Tariff Act.
Mr Christie added: "In this sense, therefore, although the proverbial door is closing, it is still open at the moment. My government therefore welcomes further input from the private sector and the public generally so that we can seriously consider alternatives to VAT and, if need be, change course accordingly.
"We need to get it right. And the best way of ensuring that it is done right is for the Government and private sector to collaborate on developing something that gets the job done for the benefit of The Bahamas and its people.