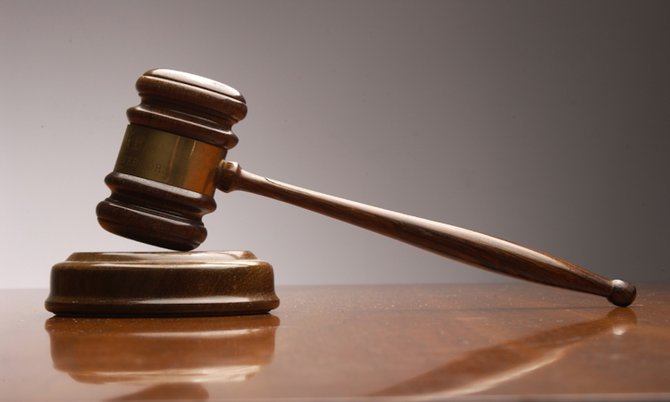 By LAMECH JOHNSON
Tribune Staff Reporter
ljohnson@tribunemedia.net
A MAN has abandoned his attempt to challenge his sentencing for a high-speed chase with police in Freeport in which he hit and dragged a pedestrian 80 feet before stopping the car and shooting at police.
Torino Moss appeared before the Court of Appeal yesterday with his lawyer Geoffrey Farquharson-Seymour who indicated, on Moss' behalf, that they intended to abandon the appeal of the sentencing in the August 5, 2008, incident.
Justices Anita Allen, Stanley John and Abdulai Conteh accepted the application and dismissed Moss' appeal.
On the day in question, around 8:30am, the two officers were on mobile patrol when they saw a vehicle on Horseshoe Drive in Freeport going in the wrong direction.
When the officers tried to pull over the blue Mercedes Benz, it sped off. A high-speed chase followed as the occupants of the car made several attempts to evade police until they hit a woman pedestrian.
She was trapped under the car and dragged 80 feet before the car could be stopped.
Moss and the other occupant got out of the vehicle. Moss opened fire on the police before running away.
The officers returned fire. Moss was struck before being cornered in a building and arrested. He later confessed at the police station.
In trial last September, Moss, also known as Torino Pratt, or "Raiders", initially pleaded not guilty to two counts of possession of a firearm with intent to endanger life, possession of an unlicensed firearm, possession of ammunition, possession of a firearm with intent to prevent lawful arrest, assault with a deadly weapon and damage.
It was claimed that while concerned with another, Moss tried to resist arrest and intended to endanger the lives of Corporal 2512 Johnson and Constable 574 Hanna with the unlicensed firearm(s) and assorted ammunition in his possession.
It was further claimed that he assaulted pedestrian Maglorie Maglada with a "deadly weapon" – a 1989 Mercedes Benz – and caused damage to a 2008 Ford Crown Victoria, as one of the shots hit the car.
However, Moss had a change of heart and pleaded guilty to all seven charges.
Justice Vera Watkins, the presiding judges, directed the jury to return a guilty verdict on all the counts.
In December, the judge went on to sentence Moss to eight years and seven months in prison for the offences.
Darnell Dorsett appeared for the Crown in yesterday's Appeal Court case.