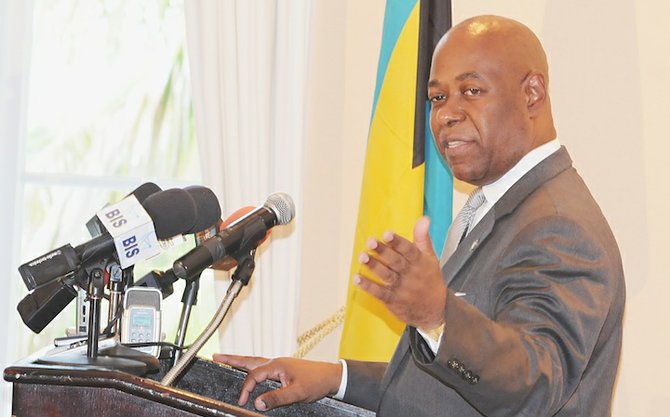 By KHRISNA VIRGIL
Tribune Staff Reporter
kvirgil@tribunemedia.net
TOURISM Minister Obie Wilchcombe confirmed that draft legislation to regularise and tax the web shop industry is currently in the works, but is not yet ready to be tabled at Parliament.
The announcement comes despite Mr Wilchcombe's assurance on March 5, during his contribution to the mid-year budget debate that a draft bill would be tabled in two weeks.
Speaking with The Tribune yesterday, Mr Wilchcombe said there have been several meetings with web shop owners who have put forward their recommendations.
Those suggestions, he said, will be the focus of discussions among legal teams from the Office of the Prime Minister, Ministry of Tourism, and the Attorney General's Office in the coming weeks.
His comments come just after lawyer Alfred Sears announced that Craig Flowers, FML Group of Companies CEO, had filed an appeal to overturn his 2011 conviction for breaching the Lotteries and Gaming Act. Mr Sears spoke to The Tribune last Friday.
In 2011, Magistrate Derence Rolle-Davis convicted Mr Flowers of permitting his premises to be used for a lottery, and promoting, organising and conducting a lottery.
While Mr Sears said he could not confirm whether an application was filed, he previously told the Bermuda Sun that the matter was expected to be heard within the next two or three months. No date has been set for a hearing, Mr Sears said.
While reports had long circulated that the government would legalise numbers despite a majority "no" result from the January 28, 2013 referendum, it was confirmed at Parliament that the illegal industry would be regularised by July 1.
He told parliamentarians that while there is respect for the church's position in addition to the referendum results, there comes a time when the government must make "the tough decisions and govern".
One of those decisions, he said, was ending the debate on web shop gaming by the taxation and regulation of the numbers industry before the beginning of the new fiscal year in June.
At the time Mr Wilchcombe said he expected the Free National Movement to fully support the legislation. He added that he would continue to hold discussions with the Church, not with a view to changing their minds, but to help them understand and appreciate the government's decision.
Debate on the Bill is expected to begin in May.