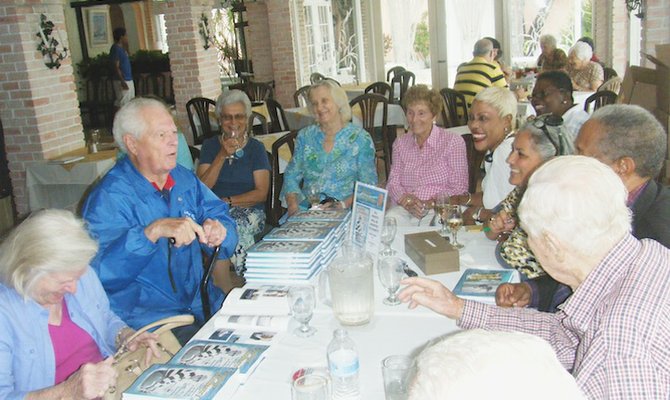 LEGENDARY sailor and philanthropist Sir Durward Knowles held a book signing at the South East Rotary meeting on Friday and again on Saturday at Montagu Gardens and had an overwhelming response.
Sir Durward, who won the Bahamas' first ever Olympic gold medal with his one-man crew of Cecil Cooke, penned his second book called "Captain of Industry" with his co-author Albert E Cox Jr.
This book was officially launched on Friday at his second love, Rotary. The members swarmed Sir Durward and bought dozens of books, the proceeds of which Sir Durward is going to donate to charity.
In 1964, Sir Durward won his second Olympic gold medal but this time it was the elusive gold medal in Tokyo, Japan. Although Sir Durward won the first Olympic medal in 1956 with Sloane Farrington, he wanted the gold and his wishes came true in the very next Olympics.
Since that historic day, Sir Durward has lived to tell the story. He first told it in his book, 'Driven', published in 1992. This book was about Sir Durward's life and an insightful view of this jovial and quick-thinking "prankster."
In the book he revealed how he bought his first boat a dilapidated wreck. And in order to raise money to repair the boat, the witty Sir Durward named the boat "Church." Thus he was able to go around requesting donations for the repair of the "Church."
These and other powerful stories are told in such vivid detail in this new book, Captain of Industry, as told to Albert E Cox Jr. The book takes you on a roller coaster ride and is a must read for all.
A rare occasion occurred at this event on Saturday when several of the "living knights" came to support Sir Durward and take a photo with this living legend. Sir Geoffrey Johnstone, Sir Orville Turnquest and Sir Arlington Butler all showed up. Other notables who took the time out were Wellington Miller, president of the BOC as well as Godfrey Kelly, J Barrie Farrington, Dr Deveaux, Rev Sweeting, Roger Kelty, and many others.
The book signing, organised by Sheila Bethel and Janet Johnson, is expected to continue at Government House, Logos Book Store and other places.
In addition to the book signing, the Bahamas Government through the Ministry of Youth, Sports and Culture along with the Bahamas Olympic Committee are planning a number of events for Sir Durward and the late Cecil Cooke in immortalising the historic feat of winning the first ever gold medal for the Bahamas.
And, according to well -placed sources, many more accolades are expected for Sir Durward to honour him for his humanitarian and philanthropic contributions. "No other Bahamian who came to fame through their sports accomplishments have done so much for an entire country as Sir Durward. His assistance spans from sailing to all forms of sports, as well as cultural, societal, religious and political endeavours. A true champion of the Bahamas," said a press release.
Many individuals, companies and organisations will be given an opportunity to immortalise their names with Sir Durward in a lifetime commemorative book that is being published through the Ministry and the BOC to mark the occasion of winning the first ever gold medal. The book is expected out in time for the start of the Independence Celebrations which will recognise Sir Durward at that time as well.
In the meantime, Sir Durward's second book is now available at participating book stores, or by calling his office to request a copy.