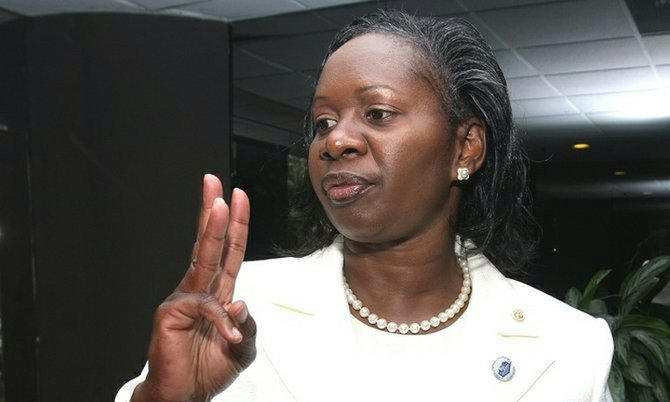 By RASHAD ROLLE
Tribune Staff Reporter
rrolle@tribunemedia.net
CHIEF Justice Sir Michael Barnett ruled yesterday that Bahamas Union of Teachers (BUT) executives could conduct business and hold meetings on school campuses, reversing a stance taken by the Ministry of Education last year.
The move, which was hailed by BUT president Belinda Wilson as a major victory for her union, resolves a longstanding issue that began last year when Ms Wilson was denied access to Anatol Rodgers High School for a lunchtime meeting with teachers.
The Chief Justice ordered that the Ministry of Education - which must now pay the legal expenses of the BUT - must immediately send a circular to all public schools in the country informing school officials of the policy change.  
His ruling, according to BUT's attorney Kahil Parker, is "in accordance with the Collective Bargaining Agreement" which gives the principal the power to approve union executives' requests to visit school campuses.
"We've been denied access to school campuses since last September," Ms Wilson said. "A circular was sent out telling principals not to give union executives approval to conduct any union business or have any union meetings on the campuses between 9am and 3pm. We were going back and forth with the Ministry on this issue. We went to the labour department and we did not get any satisfaction there. We applied to the Industrial Tribunal and they said they did not have any jurisdiction to hear the matter. That left us with no other alternative but to go to the Supreme Court last November."
Ms Wilson said her union can now get back down to business and hopefully address concerns of teachers, some of whom, she claimed, have been "mistreated in the last eight months."
She said: "Over the last eight months teachers have really been mistreated and unfairly treated on school campuses. They would be called into meetings and not be told beforehand what the meeting was about and some of them were not even allowed to have their shop steward or union representative accompany them; they were denied their right to have representation.
"Teachers will be very happy to see union executive officers on the school campuses again. With us winning in the courts we can put this matter behind us and we can begin to focus on how it is we can partner with the Ministry of Education to ensure that education improves."
Ms Wilson said the victory for her union is sweeter because it comes in May, a month that has historically been important to the BUT. "Today is the birthday of Mable Walker, the founder of BUT, and the union was also founded in the month of May," she said. "We are really pleased that justice has prevailed. We got justice. It goes to show that the government, the minister, that all of us, must abide by the law and we are not above the law."
In an interview with ZNS, Minister Jerome Fitzgerald said the ruling could hardly be interpreted as a victory since nothing much will change. "The Chief Justice said we could tell them what our preference is but cannot tell them what they can do," he said. The legal costs have yet to be determined.
The BUT will hold its first public high school meeting next week, Ms Wilson said.