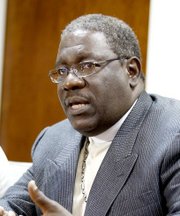 A LEADING figure in the religious community yesterday called for Bahamians to rally behind the fight against rising crime, asking all sectors of society to become more involved in "this national nightmare".

Bishop Simeon Hall, of New Covenant Baptist Church, said all Bahamians should put their country above themselves. He urged them to take the Prime Minister's declaration last week that the criminal element has declared war on the people as "a clarion call for all citizens to enlist as patriotic foot soldiers against this criminal encroachment".
He said that it was time to send another message to the criminals and not leave it to the politicians. "Politicians alone do not make good crime fighters as they generally see things primarily in their interest of being re-elected," Bishop Hall said.
"The apparent disconnect between the efforts of the police and the courts must be seriously addressed if we are to win this war.
"Crime is a national problem. It is sad that the current official Opposition is doing the same thing the current government did while in opposition – when it comes to the crime problem, they each blame the governing party. Unfortunately, it is still true that what a political party states is predicated on whether it is in power or not.
"All the pronouncements and warnings by Prime Minister Christie, Minister of National Security Dr Nottage, church and civic leaders and a plethora of others are not being adhered to by some who are hell-bent on a criminal lifestyle.
"We therefore need to develop and send another message to the criminals. As we have seemingly removed the death penalty as a viable deterrent we should find another message that would cause would-be criminals to reconsider their ways.
"All Bahamians who love their country must put country above self. The staggering level of crime has emerged as more than a political issue – it permeates every aspect of our country, affecting us socially, economically, culturally and spiritually and therefore needs a holistic, all-hands-on-deck response – and should not be left solely to the politicians.