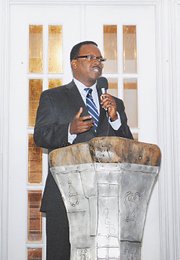 THE current economic model of The Bahamas has been described as "unsustainable" by Dr Daniel Johnson, Minister of Youth, Sports and Culture.
His comments came at the United Nations headquarters in New York, at a special debate on culture and sustainable development.
Dr Johnson said that the government was trying to ensure that culture played an important part in the future of tourism to The Bahamas. "Traditionally The Bahamas' 300,000 citizens have relied heavily on tourism to generate most of its economic activity, which has served us well for over 50 years. This small island nation now enjoys over five million tourist visits annually.
"The tourism industry accounts for more than 60 per cent of the country's GDP and provides employment for about one-half of the country's workforce. The second largest contributor to the country's economy is the financial services sector, which accounts for approximately another 20 per cent of our GDP. The Bahamas Government generates its revenue from import taxes on goods imported into the country and tax revenue accounts for about 20 per cent of the country's GDP.
"We in The Bahamas, like so many of our neighbours in the region, have arrived at the consensus that this economic model, as it exists, is unsustainable.
"While tourism and the financial services industry will continue to be the country's main economic drivers, the government of The Bahamas has made a conscious decision to ensure that culture becomes a key component in driving a sustainable tourism industry."
Dr Johnson also pinpointed some of the ways in which the government and its partners are trying to implement change. "The Bahamas, through a multi-sectorial partnership, is attempting to revitalise one of its historic districts through its 'Violets are Blue' programme. This programme focuses on commerce, empowerment, art and entrepreneurship for two inner city communities, the Farm Road, Bain and Grants Town communities which, in recent times, have been hit by gang violence, poverty, unemployment and a myriad of other social issues.

"The programme also includes the renovation and improvement of parks and recreational green spaces in the community to provide a comfortable environment for residents as well as provide the opportunity to implement walking tours of Historic Nassau."
Dr Johnson also highlighted the plans to launch a Spring Carnival in 2015 and said that those who participate in the annual Junkanoo festival must be able to derive economic benefit from the event.