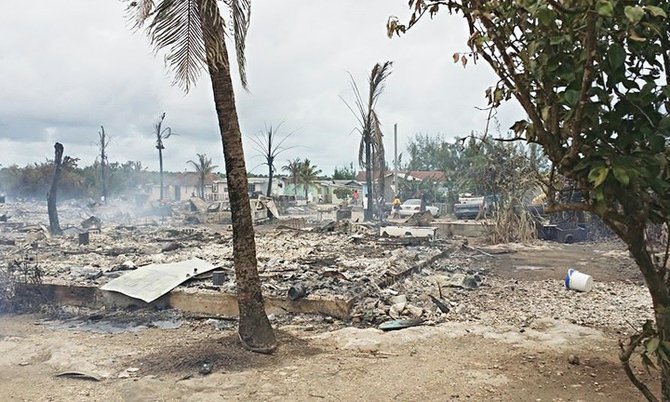 By RASHAD ROLLE
Tribune Staff Reporter
rrolle@tribunemedia.net
A 23-year-old man, assisting police with their investigations into the fire that destroyed more than 70 shanty town homes in Abaco on Sunday, has a history of mental problems and was recently seen running naked in the area, residents claimed yesterday.
Their comments came as police continued to investigate the fire that has left 104 adults, 36 children of school age and 15 infants homeless.
Social Services Minister Melanie Griffin said yesterday that all the basic needs of the displaced residents are being met.
"We were able to see the area that was burned and we were able to speak to some of the residents there," she said. "Social services along with other government personnel and agencies have been able to put in place the normal procedure for dealing with such emergencies. Their most immediate need would be food and shelter.
"In terms of that the fire happened early Sunday morning. Stores were closed but they were able to consume the food they took with them and social services have been providing them with assistance in this regard."
Mrs Griffin confirmed that some of the displaced residents are in the Bahamas illegally. "Therein lies the problem," she said. "Those not legal will not come forward; we'll only be able to see those who come forward."
She added that the relatively frequent occurrence of shanty town fires is concerning. "It is an issue that needs to be addressed. The police are doing their investigations at the moment, but this is a concern."
North Abaco Island administrator, Neil Campbell, said the "very big" Friendship Missionary Baptist Church in the area has been opened up as a shelter for the displaced.
Nonetheless, he said "only four people used the church as a shelter" on Sunday. "Everyone else is with friends and family or is at the Treasure Cay hotel. The Treasure Cay hotel is housing at least four of them who work there."
And as government ministers seek to provide relief, the Democratic National Alliance (DNA) leader expressed regret yesterday over the lack of action to ensure such disasters do not happen.
In a statement Branville McCartney said: "Nearly five months ago fire ripped through the second largest shanty town in the country, burning through roughly half of the structures there, displacing hundreds of migrants and claiming the life of a young mother and child. Just six months earlier a massive blaze caused similar damage at a shanty town on Joe Farrington Road here in New Providence."
"Will the third time be 'the charm' for this Christie-led administration to finally take action? What, if anything, will it take for this government to develop an actual plan in dealing with the proliferation of these illegal communities? How bad will things have to get before they do something? Anything?"
"These fires prove without a shadow of a doubt that shanty towns present real physical and environmental dangers, not just to the people living in them, but also to the surrounding communities. Several studies, including ones completed by this very administration, have shown that poor sanitary conditions, coupled with the contamination of the water table and the potential for diseases and outbreaks, are just the tip of the proverbial iceberg."