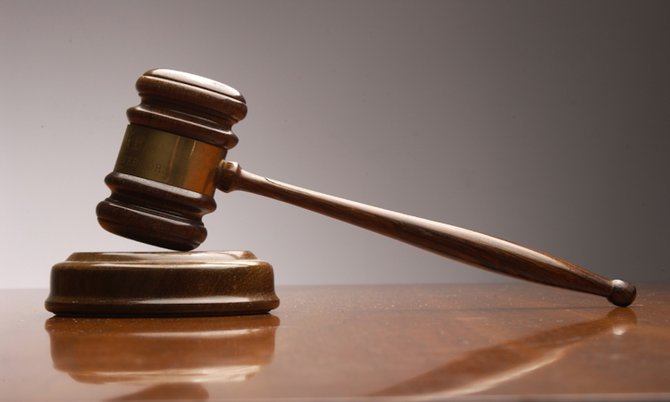 By LAMECH JOHNSON
Tribune Staff Reporter
ljohnson@tribunemedia.net
A WOMAN could not hold back tears yesterday when recalling how she pleaded with God to save her from a gunman who raped her the night of an island-wide power outage.
The woman, whose age and identity are being withheld, told a Supreme Court jury of how she, on May 29, 2012, had left church around 7:30pm and gone home to watch television when the electricity was cut three hours later.
Having changed into her night clothes she fell asleep in her bedroom where she later "felt a presence", which she likened to the feeling of being "hagged" by spirits.
"I said in the name of Jesus get off me and then this long hand came across my mouth. It was then I knew someone was actually in my house," she said as tears welled up in her eyes.
As the woman gave her evidence, her accused assailant, Oscar Ingraham, sat listening from the prisoner's dock. Ingraham, 30, of Claridge Road, faces charges of burglary, armed robbery and rape in the incident that occurred between 11pm on May 29 and 5am on May 30. It is alleged that he broke into the woman's western New Providence home and robbed her of $165 cash and a $200 Nokia cell phone before sexually assaulting her with a gun to her head.
Ingraham has denied the charges, against which he opted to defend himself.
Darell Taylor and Raquel Whyms are prosecuting for the Crown. They intend to prove the charges through DNA evidence.
In the trial yesterday, the woman was called to the witness stand and started crying moments after taking the oath. She had looked at the accused who reportedly made facial gestures at her, prompting the prosecution to ask the court that he not do so.
Justice Carolita Bethell instructed the police officers to watch the accused.
Prosecutor Taylor asked the victim about the day in question.
"Earlier that evening, I went to church like I normally do just to pray for the nation and pray for our young people," the woman said.
"I came home around 7:30pm and secured my home like I normally do and I was watching TV for a little bit. It was the night that there was an island-wide blackout," the woman said.
After the outage, sometime around 10:30 to 11pm, she continued, "I went up to my bedroom and I put on the clothes I was going to sleep in.
"I just laid in my bed 'cause there was still no light. I fell asleep and sometime in the early morning, I just felt a presence in my room. I said 'in the name of Jesus get off me' and then this long hand came across my mouth. It was then I knew someone was actually in my house," she said as tears streamed down her face.
"My heart started thumping and I heard a person say 'Boy, if she make any noise, blow her f*ing head off'," the jury was told.
The woman said the person on top of her, whom she could barely make out, asked her for money.
"I told him I didn't have any money. And he said 'anyone who live out here got to have money'. He said 'I need $1,000 cause I have to go to Jamaica'," the complainant testified.
She repeated that she had no money. He then inquired about her credit cards and jewellery. The woman said she told the intruder that her card had expired three years earlier and that she hardly ever wore jewellery aside from custom-made ones that were on the dresser.
She even offered to let the intruder take her flat screen television, which he declined.
"He said 'you know what I ga have to do then?' And I said 'no, no, no, no, no".
The woman took a moment to gather herself before continuing. She said the man proceeded to choke her as she resisted against him and begged him not to do something she believed he didn't want to do.
"I'm old enough to be your mother, maybe even your grandmother. I asked him if he had a mother or grandmother," she said.
The assailant told her he knew of her social status in the country and said he only had a grandmother and "I ga f* my grandmother tonight."
As a cold metal object was held to her head, the witness said she "started talking to God".
"I said God you can't let this happen to me. I just come out of church," the jury heard.
The complainant said the man became more forceful as she resisted and she was eventually sexually assaulted by the man who forced her legs open.
She pleaded to Jesus to have mercy on her. When the man had done the deed, he told her: "Something telling me to let you go, I ga let you go."
After this, however, the man asked her for a ride home.
"I tell him 'you got to be crazy.'" Her response, she said, prompted him to say, "See, I was trying to be nice to you, now you ga cause me blow your f*ing brains out."
She told him not to do so. She offered to give him her jeep as he led her outside with the gun to her neck.
Her attacker ran off when she opened the electronic gate.
The complainant said the only thing she was able to identify about her attacker was that he was lean and had cornrows as a hairstyle.
In cross-examination, the accused asked the complainant if she "ever saw me around your residence before."
"I can't say that I saw you," the woman said as she held Ingraham's gaze.
"Ma'am, I'ain the one who rape you," Ingraham said.
However, the judge indicated to the accused to ask questions and not make statements.
"Are you a member of the secret society?" Ingraham then asked. "What do you mean secret society?" the complainant asked.
Justice Bethell interjected, however, and asked the accused to explain.
"You don't know?" the accused asked of the complainant and the judge.
They both said they did not know what he was talking about.
"Are you a member of the lodge?" Ingraham then asked the complainant.
"No," his woman answered.
"Thank God you alive, but I'ain the one who do that to you," he said before ending his cross-examination.