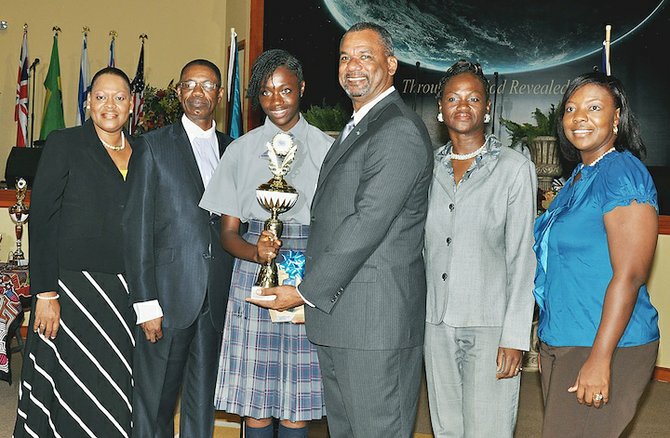 GRENIQUE Brown, a ninth-grade student at SC McPherson Junior High School, has emerged as the overall winner of the first Bahamas Christian Fellowship Centre's essay competition. She wrote: "It is important that employers train their employees in order to be on the cutting edge of technology. Countries such as China and Japan are advanced in the area of technology. It is difficult for the Bahamas to be on par with these and other countries, if Bahamians are afraid or fail to be empowered."
Under the theme 'Preserving the next generation through education and technology', students from junior and senior high schools throughout the country were invited to participate in the speech competition, which was held as part of the church's Silver Jubilee celebrations.

Jerome Fitzgerald, Minister of Education, Science and Technology, congratulated the all-female group of winners and assured them of support. "If you remain focused on your studies and do well upon graduation we will be here to help you with scholarships", he said.

Mr Fitzgerald, guest speaker at the awards ceremony, commended Apostle Paul Butler, Senior Pastor of the Bahamas Christian Fellowship Centre, for accomplishing 25 years of ministry. He applauded the church leaders for including an essay competition for Bahamian youth. He noted that the theme was in keeping with the Ministry's Shared Vision for Education 2030. The Shared Vision is a three-fold mandate to embrace present and past best policies and practices, reform educational deficiencies and incrementally create a '21st Century Graduate' who will ultimately transform the Bahamian society.
Apostle Butler said that he and his congregants were excited to contribute to the growth and development of the upcoming generation. He stated that approximately 70 of his members are constantly involved in outreach to schools. The Apostle noted that they offer prayer, counselling and seminars to help students discover their purpose and leadership ability.


SC McPherson Junior High School was the winning school and received a Galaxy 3 Ipad. The winners of the various categories were:
Junior High Division: 1 Bernique Pople, St Anne's School; 2 Andria Gardiner, SC McPherson Junior High School; 3 Alvina Rolle, Louise McDonald High School, Bimini.
Senior High Division: 1 Sasheina McCartney, Doris Johnson Senior High School; 2 Asher Johnson, St Anne's School; 3 Patrickar Bain, St John's College.