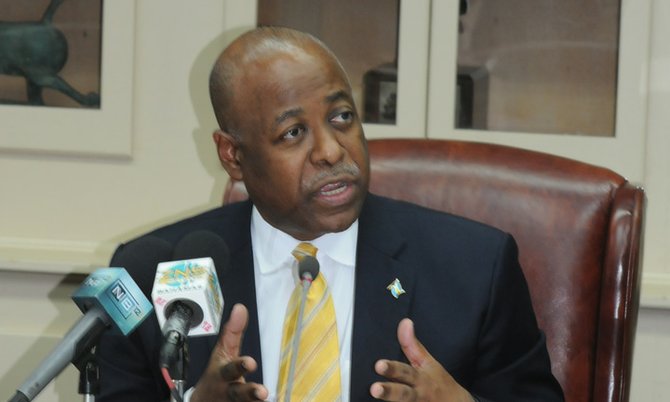 By RASHAD ROLLE
Tribune Staff Reporter
rrolle@tribunemedia.net
FOR the first time in 25 years, the economy of Grand Bahama has improved, Tourism Minister and West Grand Bahama MP Obie Wilchcombe claimed yesterday.
Mr Wilchcombe said the growing stability of the tourism industry in Grand Bahama is a welcome blessing following a period of ups and downs within the sector.
"What happened after the hurricanes of 2004 and 2005 is the island lost inventory, and before that it happened in 1997," he said. "We've never seen a concentrated effort on the growth of tourism, so finally I think we're on the right course now. We just have to sustain it."
Mr Wilchcombe said that increased airlifts to Grand Bahama, job creation and the opening of businesses are reflective of that island's economic improvement.
Nonetheless, he stressed the need to increase the number of rooms across the Bahamas that are available to tourists.
"If tourism is your number one industry, you need inventory," he said. "When I was minister in 2002 to 2007, if we filled every room, every single day of the year, we still would've only done 1.7, 1.8 million overnight visitors. That's not what you want. You want to get it much more because that's where your spend is, that's where your big spend is so we're now looking at the numbers that would be required to get the room count up the way we want it."
"The truth is at one point we had about 15,000 hotel rooms," he continued. "Then we lost hotel rooms because when Atlantis came on they brought a new brand – a great brand for the Bahamas – but they also bought out like a Club Med and others so we lost hotel rooms, Holiday Inn and stuff; those rooms have never really been replaced. Then you had some other properties that closed while our competitors, whether it's Jamaica, Dominica Republic, Cuba, they built the inventory because their arguments have been if you built the rooms, people are going to come."
Speaking generally about the Bahamas, Mr Wilchcombe said: "We are going to see more growth in the tourism industry in the capital, in Grand Bahama and throughout the family islands."
Mr Wilchcombe declined to say how much revenue the country could have made had it had more rooms. And although he credited the former Ingraham administration for focusing on the "quality of rooms" available to tourists, he said: "We need more rooms so we provide more inventory. Now where is the inventory going to be, it's either going to be here or Grand Bahama, throughout the Bahamas. We believe that if we can get the inventory up significantly, we can constantly see a growth."