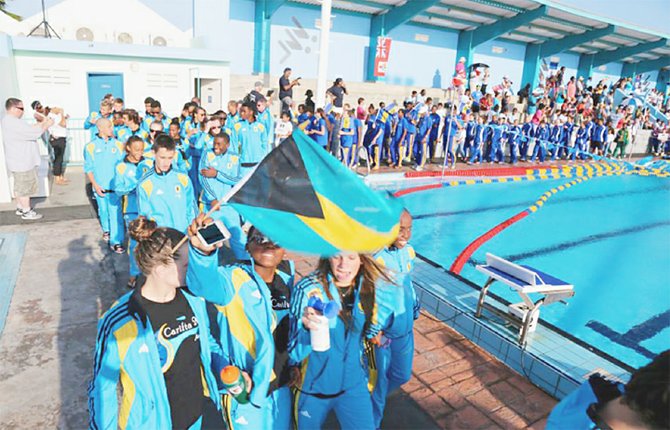 By RENALDO DORSETT
Sports Reporter
rdorsett@tribunemedia.net
MEMBERS of Parliament took time out from debate on the Medical Bill yesterday to laud the performance of several outstanding CARIFTA athletes.
The historic performances of the Bahamas' CARIFTA swimming, water polo and chess teams were recognised for their medal-winning feats in their respective competitions.
The 36-member swim team returned from the 29th CARIFTA Swimming Championships in Savaneta, Aruba, with a total of 736.50 points and 55 medals (23 gold, 22 silver and 10 bronze) for its first title ever at the top regional annual meet.
In Willemstad, Curacao, the Bahamas' under-16 water polo team also made history by picking up the silver medal at the CARIFTA Water Polo Championships.
At the CARIFTA Chess Championships, also in Martinique, candidate master Nathan Smith won gold in the under-10 division and silver in the under-12 division with six points out of a possible seven.
Along with Chaz Garraway (two points) and Philip Hanna (three points), the total of 11 points put the Bahamas above the important 50 per cent threshold in the highly competitive field.
Minister of Youth, Sports and Culture Dr Daniel Johnson said the achievements is indicative of the Bahamas expansion into those not considered "core sports."
"It shows the expanding of our franchise and what the Bahamas does for sports. This is what we have all around the country. We have kids that can do all sorts of things and do them well and we are going to continue to look to expand. For years we have known we have great track and field athletes, but we have mind athletes, water polo, rowing, we have cyclists, boxing and I want everyone to know that the gold rush continues," he said.
"I want to highlight the kids from the Family Islands. When you look at the teams we continually send out we always get stellar performances from the Family Islands and instances like these are ones that makes me proud to be a Bahamian."
Member of Parliament for Sea Breeze Hope Strachan made the trip to Aruba and witnessed the historic performance of the swim team first-hand.
"I had the privilege and honour of witnessing the team in action and I was one proud individual at that particular meet. The performance of these swimmers was something to behold. It was magnificent. They deserve every accolade that they could possibly have showered upon them by the Bahamian people. I can only hope and pray that they are able to build on what they were able to achieve, the absolute first time that our swim team has won the CARIFTA Games, and that is something to be commended.
"The water polo team followed with a silver medal after the swim team. I have a special place in my heart for them even though I did not get to see them perform, because I have two sons that were members of the initial CARIFTA water polo team," she said. "It is this kind of thing that does our hearts glad and we know there is hope for our country. When we look at the faces of these young people and we see their commitment and determination we know for a fact that the Bahamas is on a positive mission."
Member of Parliament for Montagu Richard Lightbourne and MP for Cat Island, Rum Cay and San Salvador Philip Davis recognised the figures behind the scenes integral to the success of the various teams.
"I want to recognise the sacrifice the parents make for their children. These are sports that requires such commitment that you really have to feel very proud of our young Bahamians. It gets tougher every year, the times keep going down so it's really a major accomplishment for them to have done what they did this year," Lightbourne said.
"I would like to take my hat off to Andy and Nancy Knowles who have persevered steadfastly as the standard bearers of swimming in the Bahamas. Since swimming in the Bahamas was at its lowest ebb, the partnership of Andy and Nancy kept it alive. I was an executive of the BSF for many years, I was president of the See Bees Swim Club for many years so I had first-hand knowledge of their commitment to this sport," Davis said. "The commitment and perseverance of Andy and Nancy are not to go unnoticed by this government and I think we need to celebrate that because they have been great Bahamians for this country and in particular for the contribution they have made in swimming."
Major sponsor BTC presented members of the Bahamas CARIFTA swimming and water polo teams with brand new mini S4 cellular phones and packages which included two data cards valued at $40 and a coupon for an LTE Sim Card.
"We salute you for your honourable achievement and we wish you success moving forward. The greatest challenge is maintaining the success that you have achieved. The Bahamian people will be anticipating more first places. Stay positive, stay youthful, listen to your coaches, stay clean and God will take care of the rest," House Speaker Dr Kendal Major said. "Just imagine if there was a swimming pool in every government school. Just imagine what this country really can be."
Minister of Education Science and Technology Jerome Fitzgerald said his ministry has plans to place swimming pools in each of the four districts to accommodate a wider range of students.