By JEFFARAH GIBSON
Tribune Features Writer
jgibson@tribunemedia.net
AFTER having a baseball sized tumour removed from his brain and surviving a 30-day coma earlier this year, 54-year-old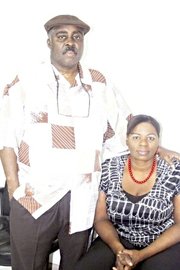 Charles Bodie is using those life-changing experiences as a launching pad for an organisation to assist people who find themselves in similar situations.
Mr Bodie, the owner of Party Flashers & Glow in Freeport, Grand Bahama, hopes to create greater awareness of stroke related issues and tumours through the Help Dem Help Us committee.
The organisation was first started by Mr Bodie's wife Michelle and one of her co-workers who hosted numerous events to raise funds for her his medical expenses.
Mr Bodie's fight for life began in August 2011 when he woke up blind one day.
Medical tests, he said, indicated that two tumours had been growing in his brain for the last two decades.
"The tumours were resting on my optic nerve which caused the blindness, and based on the sized the doctors said it was growing for about 20 years," he said.
Mr Bodie underwent a 20-hour brain surgery at the Memorial Regional Hospital in Florida and regained his sight. During the surgery, doctors made a horizontal cut of Mr Bodie's head, extending from one ear to the next.
The scar, or the "Indian headband" as he describes it, serves as a reminder of the close encounter he had with death and the gift of life extended to him while he lay unconscious on the surgery table.
"It took them about two hours to cut into my skull to take out the tumour and the cut has left a scar," he told Tribune Health.
"I always shave my head bald because I like to feel the scar. I do not ever hide it."
After the surgery Mr Bodie was given medication for seizures that were considered likely in his case. However, he said he was not told that the medication was to be taken on a continuous basis.

Mr Bodie said as a result he fell into a coma on January 19, 2014, and was admitted to the Rand Memorial Hospital in Freeport.
The ordeal presented another hardship for his wife Michelle and their four children. This time around, Michelle was told that there was nothing more they could do to save her husband's life.
But she remained hopeful that a miracle would occur to save him.
Mr Bodie was subsequently airlifted to Florida where he underwent his second brain surgery.
The procedure was successful.
Now that his health has been restored, Mr Bodie and his wife are putting all their efforts into helping others facing the same issues.

As part of their initiatives, a fundraiser will be held this month to help families with medical expenses for their loved ones.
The Bodies are also making plans for a blood drive.
"What we are looking to do beginning next month is to host a series of workshops, because there is diabetic support group, there is Alcoholics Anonymous, there is a lupus support group, but there is no stroke and brain tumour support group. So what we have decided to do is turn Help Dem Help Us into a stroke and brain tumour support group," Mr Bodie said.
"I met a young lady recently who is a student at UWI (University of the West Indies), and last October she had a brain tumour surgery and she is ready to jump on board and take her message to the public."
Mr Bodie said since his ordeal began in 2011 he has done numerous public talks to make people more aware of those suffering from brain tumours and strokes in the Bahamas.
"What my intention is now that God has given me a second chance is to be an inspiration to people, to let them know that all is not lost once they still have life. It makes me feel real good that I can share my story with people," he said.
Mr Bodie said he will use his second chance to help others for as long as he lives.