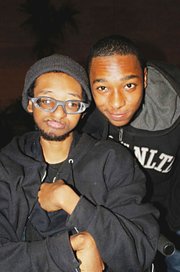 By ALESHA CADET
Tribune Features Reporter
acadet@tribunemedia.net
SINCE he was just eight months old, Adrian Pyfrom has been a miracle for his family, defying the odds in his ongoing fight with an extremely rare disease.
Today, at age 24, Adrian is the oldest cancer survivor at Miami Children's Hospital and continues to be a powerful positive force in the lives of his mother and brother.
The Pyfrom family was living in Inagua, Adrian's mother, Geraldine Pyfrom, said when he was diagnosed with cancer as a baby.
Taking her son for medical assistance to the Miami Children's Hospital, Geraldine said she was told that Adrian was a so-called chromosome 22 ring child and that he was one of only 35 cases worldwide at the time.
"These children have weak muscles and tumours as an adult," Geraldine told Tribune Health. "Adrian's tumour was at 15 months old; a rhabdoid tumour on the left kidney.
"We spent one year at the hospital for eight months of chemotherapy. Adrian later developed a tumour on his left eye for which he had surgery in 2003. Eight years later the tumour returned in the same eye.
From last November to January of this year, Adrian received daily radiation therapy at the Sylvester Cancer Centre in Miami. He required the insertion of a PICC line for daily anaesthesia and received nutrition through a gastric feeding tube. Adrian suffers from significant neurological and cognitive deficits.
During that time he was also subjected to multiple MRIs and blood testing. Geraldine said her son's strength and courage can only be admired.
"When he was in hospital, a nurse came in and told me she was so privileged to be a nurse for Adrian and I asked her why.
"She said it is very important because the doctors and nurses were in the conference room as we speak and they are discussing you guys. She said they were discussing the fact that Adrian is the oldest cancer survivor at Miami Children's Hospital. She said he is the toughest kid that they have ever seen and they are so proud that the mother stuck with him through thick and thin and she doesn't give up," Geraldine said.
Standing next to the nurse, Geraldine said she responded with, "Oh God, it is not in vain".
"When the tumour came back for the fourth time (last) August, the doctors told me I had to figure out what to do from there on. They had already cut the tumour twice and it came back twice. They said the only thing was to give him chemotherapy and radiation and I said he had already went through chemo as a baby and at this point I would not wish that on anyone. My son is a miracle and he survived all of that as a baby, so I told them to go with the radiation," she said.
Geraldine said Adrian's 16-year-old brother, Anthorn, has become a "tower of strength" for them both.
"I had to make up my mind to take Anthorn out of school in November of last year and I told the school to give him enough work to last until the third of December.
"While in Florida, every morning we had to drive from Miami Children's Hospital to the Sylvester Cancer Centre to get the radiation done, and every morning Anthorn would lift that wheelchair and get his brother into the wheelchair. He would be laughing and playing with his brother, having a happy time," Geraldine said.
To keep Adrian motivated on a daily basis, Geraldine said she and Anthorn would assist him in trying to sit and move around on his own. They would make trips to the beach and watch Adrian as he walked with the aid of a medical walker.
"He is aware of his illness because he plays close attention to people and things around him when we all talk about it, but he doesn't let it get him down. I would sacrifice everything for Adrian because he is no problem. It is just the sickness that keeps coming, but underneath all that, he is the sweetest kid there is," she said.
Geraldine said she would like to see Adrian get more assistance in terms of physical and occupational therapy, which is something she is currently working on.
For any other mothers out there who may be in a similar situation, Geraldine said she wants them to know that it is a special person that God gives a special needs child to.
"You have to make up your mind that your friends and family will come and go, but it's you and that kid.
"The child didn't ask to come here, but you have to make up your mind to try and be there to the end for that child.
"Sometimes Anthorn would get so caught up with Adrian that he would tell me it's his responsibility to do this and that for him, but I would correct him and tell him, no it is mine. I always tell him that he has a life of his own and this is between me and God, and God is going to help me with it," Geraldine said.