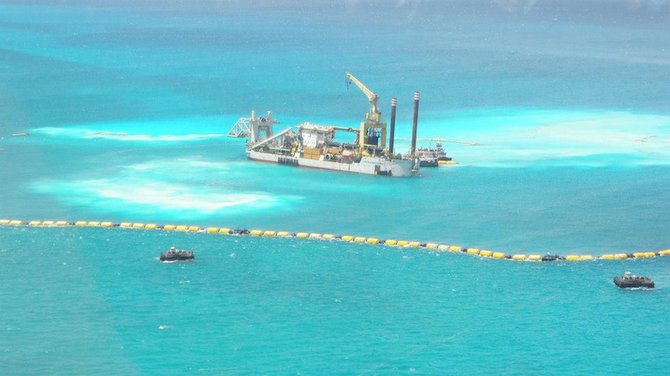 By RASHAD ROLLE
Tribune Staff Reporter
rrolle@tribunemedia.net
RESORTS World Bimini has been given permission by the government to dredge more than half a million more cubic yards of material than was previously disclosed to the public, Bahamas Environment Science and Technology Commission (BEST) documents seen by The Tribune indicate.
This news comes as Court of Appeal Justices, by a majority vote of two to one, refused yesterday to grant Bimini Blue Coalition's request to have an injunction imposed on dredging activities in North Bimini as part of the resort's construction of a cruise ship terminal, 1,000-pier and man-made island.
In seeking an injunction, the Coalition had claimed that the developers failed to uphold a Court undertaking they made not to dredge until they had notified the environmental group that they had all necessary permits or approvals and provided copies to them.
Justice Abdulai Conteh was the dissenting Justice. The reasons for their ruling are expected to be released in documents today.
Nonetheless, according to an October, 2013 Environmental Impact Assessment (EIA) on the BEST Commission website which addresses the environmental impacts of the construction, operation and maintenance of a new ferry terminal on the west shoreline of North Bimini, the project was to include dredging of 220,000 cubic yards of material "which will be utilised in the construction of a new 4.5 acre island connected to the shore by a 1,000 foot long piled pier."
However, a document seen by The Tribune, signed by Port Controller Commander Patrick McNeil and dated April 29, 2014, reveals that last month BEST Commission offered the developers "no objection" to their request to increase dredging material from 220,000 cubic yards to 874,000 cubic yards so long as certain conditions are followed.
It is unclear when the request was made by the resort, though the BEST Commission documents note that a "conditional approval" of the request was granted on July 29, 2013 under unknown conditions.
"It is extremely important to note that in offering this NO - OBJECTION the Commission notes that significant concern remains unanswered with respect to the proposed excessive dredging," the document said, adding: "The Commission places on record its serious concerns with respect to the structural stability of the placement plan for the dredge material, as we envisage catastrophic failure of the system, resulting in some one million cubic yards of material, excluding water, being released into the embayed areas of North Bimini if mitigation measures and the site management is not provided for."
The BEST Commission demanded that an addendum to the EIA and Environment Management Plan (EMP) be made. It also recommended that a variety of other steps be taken to mitigate the risks associated with the increased dredging, including that an addendum to the EIA and EMP be submitted featuring "suitability of structural design and controls, as well as management of these proposed spoil management structures for review to substantiate good industry practices to protect against structural failure and ruinous release of sediments into the environment." In addition to an addendum to the EIA and EMP, BEST commission recommended that nine other actions be taken to prevent potentially catastrophic environmental degradation from the project.
While Resorts World Bimini's (RWB) Public Relations Director, Michelle Malcolm, noted in an email to The Tribune yesterday that "adjustments to the EIA and EMP have been made" in accordance with BEST Commission's demands, the EIA and EMA documents on BEST Commission's website does not reflect these claimed changes.
In a statement, Ms Malcolm said: "This expansion will help ensure that arrivals and departures to and from Bimini are smoother, in turn providing a more enjoyable and comfortable guest experience. Adjustments to the EIA and EMP have been made and proper approvals from the BEST Commission and the Bahamas Government have been granted, and we will continue to adhere to all environmental laws and best management practices and monitor water quality throughout the process. The cruise pier's structural design will remain unchanged and we will continue to take every precaution to preserve Bimini's natural habitats, both on land and underwater. All corals located in the dredging footprint have been removed and relocated to a new artificial reef nearby."
Fred Smith, attorney for the Coalition, said yesterday that the failure of the EMA and EIA documents on BEST Commission's website to reflect the changes allegedly made by RWB proves that the claims made two weeks ago by Environment Minister Kenred Dorsett that all documents related to this matter have been posted to BEST commission's website are false.
He said the issue of increased dredging material should have been made available to the public in "reasonable time for sensible contribution and consultation."  
He said: "It's inappropriate to cherry pick what they put online." He said it is unclear if the developers had time to implement the actions and recommendations called for by the BEST Commission.
When contacted, environment lawyer Romi Ferriera said the BEST Commission documents seen by The Tribune indicate that information in the EIA fail to fully address the project in all its scope. "How do you predict how far the plume will be? The initial prediction is no longer valid given the extent of the variance. The EMP has to be totally revamped," he said. "Look at the size of this. It was difficult with 220,000 cubic yards. The risk has increased that much more now. It's madness."
Asked yesterday about concerns raised after aerial photos of the dredging taken over the weekend showed that a large plume of silt was spilling beyond the protective curtains and spreading over the surrounding marine habitat, Ms Malcolm said: "Resorts World is working closely with the BEST Commission and our environmental consultants throughout the process to operate at acceptable levels detailed in the EIA and EMP."