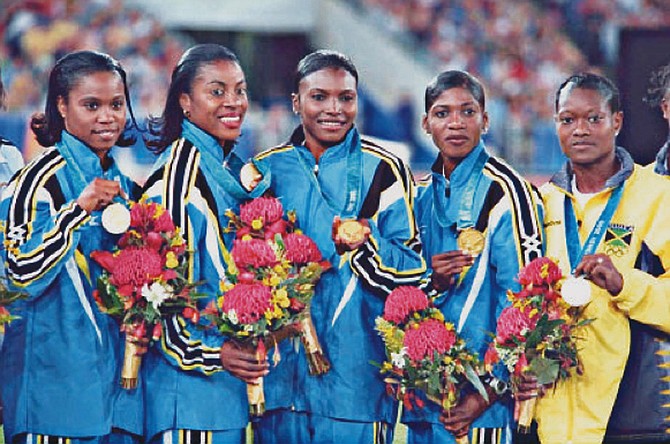 By RASHAD ROLLE
Tribune Staff Reporter
rrolle@tribunemedia.net
WHEN Pauline Davis Thompson celebrated her relay team's gold-winning performance at the 2000 Olympic Games, she didn't believe her home country would host a major athletic event in her lifetime.
Yet as 800 top runners from 42 countries descend on the country for the inaugural IAAF World Relays, her wish – and those of thousands of Bahamians – will be realised.
Yesterday, she joined Youth, Sports and Culture Minister Daniel Johnson and the Managing Director of the Local Organising Committee (LOC), Lionel Haven, in addressing concerns over the country's preparedness for hosting the two-day event, which begins on Saturday.

The stadium where races will be run and athletes will train is about 99 per cent complete, she said. And only 1,000 tickets are left for each day's events.
Mr Haven added: "Operations are moving on very, very well. What we have left to do is largely cosmetic. We have very large numbers of Bahamians working. We're not operating according to the clock and when I say that I mean we're not running 9 to 5 anymore. If you have to work through the night, get it done. We are confident everything will be done on time for the event."
On tickets Mr Haven said: "General admission tickets are the only remaining tickets and they are available only for the eastern grand stand. All other tickets have already gone."
Mr Johnson said: "Bleachers used during Junkanoo parades have been put up – a thousand seats; as many seats under safety conditions. Please don't come on Friday evening looking for a ticket. You will be disappointed," he said.
The Minister said he will reveal full details about the event's budget and economic impact at a later time.
Mrs Thompson, who serves on the International Association of Athletics Federations (IAAF) council, explained that she played a pivotal role in ensuring the Bahamas was chosen to host the inaugural event.
She said that during a meeting with council members, when the topic of who would host the games was raised, she put up her hand, saying: "Now y'all know y'all want come to paradise right? Y'all have never been to the Bahamas for anything like this. Everyone looked and me and they smiled, and they said, 'you know what,' yeah, maybe, why not, and, of course, I had the biggest supporter in the house, President Lamine Diack, who came here in 2002 for the Carifta Games and fell completely in love with the Bahamas and the Carifta games."
Saying that the success of the event will determine the country's future as a top sports destination in the region, she urged residents to: "Bring your goat skin drums, your cowbell, your whistle and let's just show the world a grand Bahamian time. Let's show them the spirit of the Bahamian people because that's what they love about us; they love our spirit; they love our warmth; they love our friendliness; and that is what I'm expecting, my fellow Bahamians."