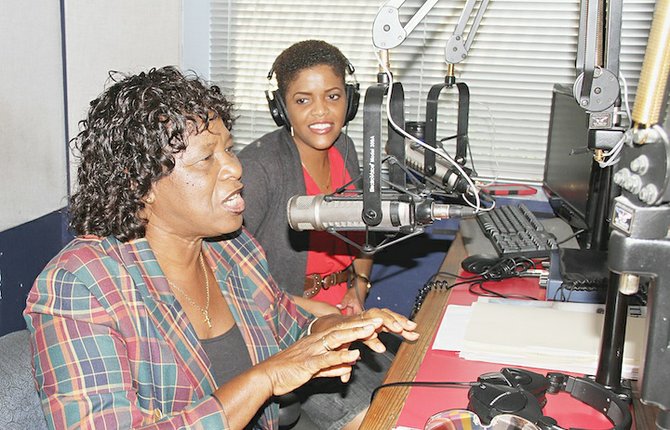 By KHRISNA VIRGIL
Tribune Staff Reporter
kvirgil@tribunemedia.net
A TELL-ALL account of a journey from the "pit to the palace" was how former Deputy Prime Minister Cynthia "Mother" Pratt yesterday described her latest  book, to be published officially next month.
"An Ordinary Woman From the Heart of the Inner City" is one in a series of three books expected to be sold in 20,000 bookstores across England, Canada and the United States.
The international release is June 19, while readers in New Providence will get their first glimpse of the 110-page book at the Hilton Hotel at a launch on June 21. The launch is at 6pm.
Growing up in a household with more than 16 people, being severely malnourished and rummaging through garbage cans at graveyards and other public places to eat are experiences that Mother Pratt said inspired her to want more out of life.
The concept behind publishing the intimate details, she said, was to inspire those facing similar situations.
"I knew what it was to go down to the market dock," Mother Pratt told The Tribune, "where the Haitians threw out the mangoes that were no good into the water. We would then get our stick and we would hook them out of the water and we would eat them. That was a meal. That is how I would survive. 
"Many today might not be to the docks, but they are hooking food from the ground, from the garbage bin. But there is hope.
"If you desire to get out if you want to change, you have to want to. And the only way to do that is you must make the first step to get around the right people.
"Get involved in positive things and watch and see how doors begin to open for you."
Albert Cox, author and publisher, said he was excited with the end product, which took three to four months to compile.
He added that excerpts of the book have been circulated to various universities and the previews have been well-received.
Mr Cox said the book also gives insight to Mother Pratt's role in history and the role of women in leadership positions worldwide.
Mr Cox said: "In knowing that she is so humble in the whole process, sometimes I even forget that she was a former deputy prime minister.
"Sometimes I have to remind myself because she's not overwhelmed in regards to her title and that is very rare.
"Even when the universities read it they come back to me and say 'Are you sure this is a former deputy (prime minister)?'."
Paperback books will sell for $20, while the hardcover versions will sell at $30. E-books will range from $8 to $10.
Mother Pratt was elected to office as the Member of Parliament for St Cecilia for the first time in 1997 and retired in 2012.
In 2002, she became the first woman to hold the post of deputy prime minister. Mother Pratt was also the first woman national security minister and acting prime minister.