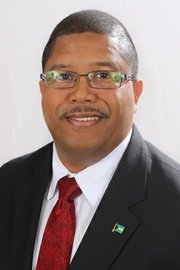 By SANCHESKA BROWN
Tribune Staff Reporter
sbrown@tribunemedia.net
THE Free National Movement yesterday dismissed the government's 2014/2015 budget as a "dismal failure" that contained nothing but "false hope" and the "same old promises."
Shadow Minister of Finance Peter Turnquest said this year's budget is a duplicate of last year's as well as the government's mid-year budget contribution.
"Once again, the Prime Minister has presented a budget that can only be described as long on talk and little on action.
"In fact, it is a repeat of not only last year's budget and the mid-year statement, but it is nothing new with nothing of material substance.
"Again the PLP government failed to live up to the 10,000 jobs they promised and the mortgage relief programme," he said.
"The reality is that the economy is still sluggish and GDP growth is lower than expected. It is 0.7 per cent versus the 2.5 per cent projected in the 2013/2014 budget, a dismal failure on the part of this government or wilful deceit of the Bahamian people and external agencies.
"Unemployment remains unacceptably high, crime and the fear of crime remain high and now seems to be spreading to Freeport and the Family Islands – an indication of the high levels of unemployment."
Mr Turnquest also criticised the government for "double taxing" the Bahamian people by introducing Value Added Tax in January 2015 without lowering the cost of customs duties simultaneously.
He said: "With the introduction of VAT, customs duties will not be reduced until possibly in July of 2015. That means that there will be a period of double taxation between January and July of 2015.
"Again that is very, very significant for us to bear in mind and consider because the cost of living will increase dramatically during that period.
"So I do not know exactly what the thinking is in respect to that.
"One would have thought with the coming in of VAT in January, you would have had a corresponding decrease in the duty rates right away to offset.
"But it seems that the government wants to double down to make up for lost time and that is not fair to the Bahamian people."
When asked if the FNM has a position on VAT or an alternative form of taxation, Mr Turnquest said the "FNM is not obligated to put forward an alternative".
However, he said as soon as the party is "comfortable" with the information that is being provided to them by the private sector, they will "put forward a position".