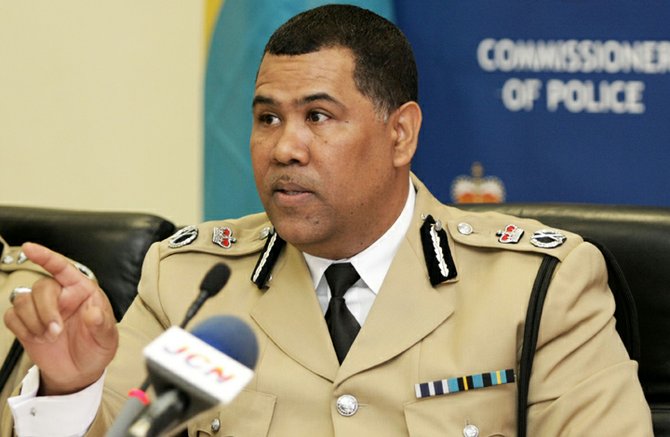 By RICARDO WELLS
THE FATE of criminals who have already served their time should play an integral role in the fight against crime, according Commissioner of Police Ellison Greenslade.
Mr Greenslade hit out at a societal culture of apathy that breeds re-offenders, who are without opportunities to lead a constructive life due to their tarnished records.
He supported Minister of National Security Dr Bernard Nottage's recent stance against vigilantism, adding that violent crime trends have not led to an increase in applications for gun licences.
"Let me just tell you bluntly," he said, "I have said before, I have said to the Inter-American Development Bank (IDB), I have said to my minister and others, and now I say to you as a public, something has to be done about offender re-entry in this country. When they are released and sent back to their communities, what then?"
Mr Greenslade said: "They are not going to get a job because they have a criminal record. No one will give them a job. The reality is, then what? They [offenders] will tell you, what do you expect me to do? I have to live and if I am on bail and I got some other challenges, and I have no job, and I know the only thing that will give me a reasonable defence is to rob someone to pay someone to represent me, then that is what I will do."
The commissioner maintained that crime is trending downward in all categories, with the exception of murders and attempted murders.
His statements came at the end of another busy week for police with three murders - which took the 2014 total to 97 - and increased public scrutiny over the government's response to crime.
Mr Greenslade stated that he and his officers are doing the best they can with what they have, reminding the public that crime constitutes more than murder.
"Everyone in this country is aware that we are having significant challenges with crime," he said.
"Murder, specifically, is a category that continues to challenge us. We are doing the best we can, not just as a police force, but I venture to tell you that lots of good citizens are assisting in the fight."
Mr Greenslade spoke to media at a police graduation on Thursday, where he criticised the media's narrow focus on murder.
Mr Greenslade said: "Crimes are down in all other categories, all major crime categories are down with the exception of that vexing issue and of course we have some issue with attempted murder. I know that there are a lot of well-meaning people in this country who are victims of crime."
"They are alive, they have not been assaulted, physically; but their homes have been burgled or broken into. The windshield of their cars may have been smashed, batteries and tyres stolen off of vehicles, from vehicles. Windows smashed and things grabbed and taken away. It is not just about murder. It can be worse than murder. We don't wish to have one murder in the country, but the reality is we must not forget that there are other crimes being committed."
The National Security Council met this week under the chairmanship of Prime Minister Perry Christie. The council agreed to new initiatives to curb the recent spike in violent crime; however, officials remain tight-lipped over the details of the new strategy.
The new strategies come on the heels of the home invasion and murder of Blair Estates resident Andre Cartwright on Tuesday morning.
Cartwright, 44, was at his home with his mother and father in the early hours when three men kicked in the front door of the house claiming to be police officers.
The incident has renewed calls for relaxed gun laws, to allow more people to own firearms for self-protection.
Mr Greenslade explained that the solution to crime isn't allowing more weapons into society, and suggested that criminality will only decrease when offenders are able to return to a supportive environment that encourages reform.
"I don't believe the solution is just arming everybody," he said. "I don't accept that. I can point to many countries where people are bearing arms and people are still being assaulted and kill."
Mr Greenslade said: "I am always amazed at people that are second-guessing me when I say it. We have a core of prolific offenders in this country who are in and out of the system committing serious crimes. The matter in Blair Estates speaks volumes to that.
"The perpetrators are known to the system, they are known to law enforcement. They have been targeted, they have been arrested; but if we cannot keep them behind bars and away from society, they will continue to re-offend."
The commissioner noted that there were many young men in the country who refuse to allow law enforcement to settle their disputes, adding that this trend was an "amazing phenomenon".
He noted that despite these available avenues of resolution that many of the young men in society elect to settle these differences themselves. He labelled this "an amazing phenomenon".
"This has to be a conversation about what is wrong in the country, something that has taken years to manifest itself; didn't just happen," he said.
"Decades of missteps on the parts of lots of people. This is not going to go away overnight. Real issues that have to be addressed, and this culture of 'I don't care', this culture of "so what" is something we are going to as families, as loved ones, relatives and friends have to come to terms with."
He added: "It cannot be so what, so what causes people to lose their lives. We have got to get back to basics and be the loving people that we once were in this country. It's going to take some work but it can be done."