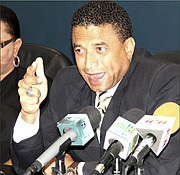 By NICO SCAVELLA
Tribune Staff Reporter
nscavella@tribunemedia.net
DNA Leader Branville McCartney yesterday said the government needs to "let the commissioner and his men do their job" and "lock down" New Providence in certain areas to deal with criminals.
Speaking at a press conference yesterday, Mr McCartney said a "relentless" approach needs to be taken against criminals.
He also said the government needs to exert "the same type of energy" on crime that it is currently demonstrating in tackling illegal migration.
He suggested that the public only hears about a fraction of the crimes that are committed in this country. "The crime issue is out of hand," he said at his law firm on Village Road. "You've got all sorts of things happening in this country that we don't even hear about.
"I don't want to hear no foolishness from this government or from the police department talking about 'crime down.' I'm scared in my own country. The fear of crime is not down. Don't talk fool around my head about the crime is down, when it isn't.
"This crime is out of control and I ask the government to deal with it. Let the commissioner and his men do their job. Lock down the place in certain areas if you have to."
His comments came the same day a woman drove her male companion, who had multiple gun shot wounds, to the Central Detective Unit following a shooting on Soldier Road. The man was pronounced dead at the CDU. His death pushed the year's murder count to 100.
In October 2013, Mr McCartney's brother Kurt McCartney was shot and killed. He was also reportedly run over with his own car.
"Six months later," Mr McCartney said yesterday, "a cousin of mine was burned to death in her house. Let's get this crime under control. Your children are not safe, parents are not safe, we're not safe. It's not good in this country. You don't know when you're going to your house and someone's waiting at your gate. You don't know if when you're sleeping at night, someone's breaking into your house, knocking down your inner door and killing you. I feel it too. I know about this."
The former Bamboo Town MP also questioned how many times the country has to be on the receiving end of crime warnings from US officials before something is changed.
Last month Assistant Commissioner of Police Leon Bethel said police were "doubling their efforts" in trying to "drive down the numbers" of home invasions and subsequently crime in general.
He said teams of "serious officers" would be on the streets in "full force" to make the public safe for the Christmas holidays.
National Security Minister Dr Bernard Nottage last week said the government had agreed to new crime fighting policies, however he would not reveal them.