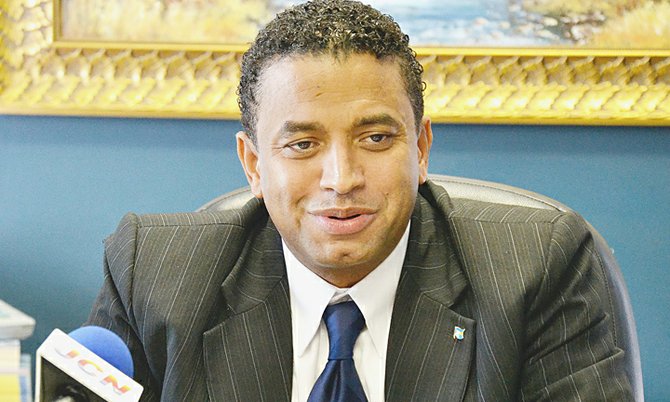 By NICO SCAVELLA
Tribune Staff Reporter
nscavella@tribunemedia.net
DNA Leader Branville McCartney yesterday called for the government to hold a constitutional referendum "as soon as possible" to determine whether children born in this country to illegal migrants should have a right to apply for Bahamian citizenship.
Mr McCartney said "the time has come" for the government to review Article 7 of the Constitution which allows children born here to non-Bahamian parents to apply for citizenship on their 18th birthday.
He said the government should "put it to the Bahamian people" to decide whether they should have that right.
"I think the time has come," he said. "We see what's happening now. We see where persons are being repatriated. They were born here, and they may have been born here illegally, but they may have a right to come back on their 18th birthday to apply for citizenship. That's a concern.
"As we repatriate and as they do have a right to apply before their 19th birthday, what's going to happen to those in 18 years? What's going to happen really in five years, four years, maybe after a year? "We need to put to the Bahamian people by referendum whether illegals coming to the Bahamas and children born to (them in) the Bahamas will have a right to apply for Bahamian citizenship," he said.
Article 7 of the Constitution presently states that persons born in the Bahamas after July 9, 1973 to parents who are not Bahamian citizens can apply for citizenship between his 18th and 19th birthday.
Yesterday Mr McCartney said those persons that apply for citizenship should be required to know fundamental criteria of "Bahamian society and culture."
"For God's sake you must speak our language," he said. "You must know our national anthem, our pledge of allegiance, our history, our culture, our heritage, and you must respect our flag. You must know our parliamentary system and other aspects of Bahamian society and culture.
"When I was in Immigration I swore persons in, and I realized that many persons I swore in initially could not even speak the English language, could not say our national anthem, did not know who the father of the nation was, did not know who the senior minister of immigration was, could not pronounce the prime minister's name properly (at the time)," he said. "So I introduced certain classes that had to be had prior to persons getting citizenship. I'm asking this government to re-implement what was there and – after I left – was removed."
In September Immigration Minister Fred Mitchell announced that the government would impose new immigration restrictions in a bid to clamp down on illegal migration, particularly from Haiti.
Those restrictions came into effect on November 1.
Mr Mitchell said as of that date, all people living in the Bahamas must have a passport of their nationality. He said children born in the Bahamas to illegal migrants would be deported with their parents.
He explained that while those children could not receive a resident stamp in their passports, there was consideration to amend the visa regulations so that affected persons with a contingent right to apply for citizenship could re-enter the country.
Mr McCartney yesterday said the DNA "encourages" the Christie administration to continue immigration reform.
However, he said, if the government was consistent in "carrying out our laws" the illegal migration problem could have been avoided entirely.