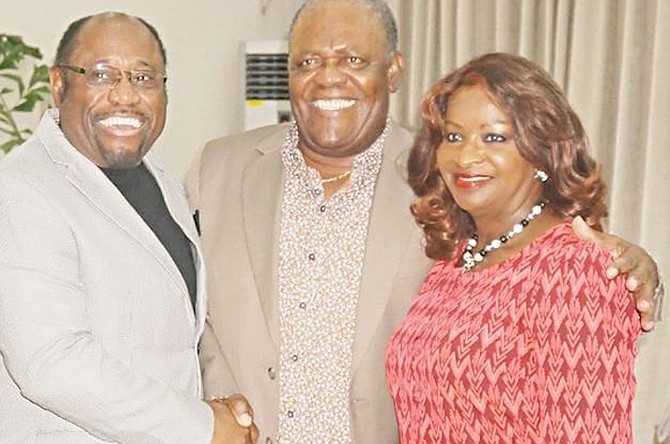 By SANCHESKA BROWN
Tribune Staff Reporter
sbrown@tribunemedia.net
FORMER Prime Minister Hubert Ingraham yesterday praised Dr Myles Munroe as an "inspiration to thousands of Bahamians" and followers around the world.
Mr Ingraham, former leader of the Free National Movement, was one of several who expressed sorrow after Dr Munroe's tragic death on Sunday.
"I last spoke with Dr Munroe and his wife in an airport lounge in Dar-es-Salaam, Tanzania," Mr Ingraham said in a statement.
"He encouraged me to see more of Tanzania of whose beauty he was effusive. He was happy and enthusiastic, heading to Gabon with his wife on what was a three-nation tour in Africa. I extend my deepest sympathy to his children, to his father, his siblings and extended family. I especially say to his sister Verdell, who in the early 1990s worked in my office, that I and Delores will keep all of her family in our prayers and pray that God will grant them the strength to deal with their terrible loss at this time."
House Speaker Dr Kendal Major remembered Dr Munroe yesterday as "his spiritual father" and "the guardian" of his soul.
Dr Munroe, an internationally acclaimed author, public speaker and mentor, was also the founder of the church Bahamas Faith Ministries (BFM).
Dr Major spoke to The Tribune a day after Dr Munroe, his wife Ruth and seven others were killed in a gruesome plane crash in Grand Bahama. The group was heading to Freeport to attend a leadership conference, which Dr Munroe had organised.
Dr Major, who is a member of BFM, said he is still "in complete shock and disbelief" that the church lost an entire block of their leadership.
Church officials have confirmed that Dr Richard Pinder, BFM's senior vice-president, was also on Dr Munroe's Lear 36 Executive jet when it went down. Pastor Lavard Parks, his wife, Rudel Parks, both BFM youth ministers, and their young son, Johannan, were also on the plane.
"I have lost two spiritual fathers and friends who I loved dearly," Dr Major said.
"Pastor Myles and Pastor Rich were not just my pastors they were my mentors, the guardians of my soul. I am still in shock, still in disbelief. I have so many questions, but I am comforted by the fact that despite this tragedy I know that Pastor Myles would want me, he would want all of us to rise to the challenge and maximise our potential to live our life to the fullest.
"We must use it as an opportunity to change the direction of our country and to grow and love deeply, be a blessing to mankind.
"He married me (to my wife) and the night before my wedding, we didn't spend our time talking about women and such, we spent our time sharing the gift of marriage and how to become better men and better citizens. My friends were blessed, they said they never experienced anything like that before.
"He understood the times we lived in and the challenges we all faced. He could relate to the drunkard, the street sweeper, the business man, any and everyone. He was able to walk in your shoes and tell you what your soul needed to hear. He will truly be missed."
Legacy
Apostle Carlos Reid also expressed his grief over the tragic news. He credited Dr Munroe for transforming him from a "gangster to leader."
"His legacy will be the number of people that he impacted," Mr Reid said. "One of his missions was transforming followers to leaders. I am one of those followers that he transformed into a leader.
"I came from a life of crime, I was a gangster, a drug dealer, but coming in contact with Dr Munroe, he caused me to see things I never saw before. It's because of him I believe I have developed into the person I am today. I was able to express this to him last (week) Sunday, I was able to publicly thank him for the impact he made in my life. Just to hear this news (Sunday) evening caused me to reflect.
"I'm trying to understand why, why God would take a man like him that had so much to offer, while all these wicked people are still on this earth. Sometimes we take it for granted that we will have people here forever not realising that life is so fragile and not realising that the last time you see somebody could be the very last time that you see them," Mr Reid said.
It is believed severe weather conditions may have contributed to the crash.
The plane, which left Nassau at 4:07pm on Sunday, hit a crane at the Grand Bahama Shipyard around 5:10pm and crashed in a nearby junk pile.
Others on board the plane included Captain Stanley Thurston, co-pilot Franhkan Demeyer, 34, and another man, believed to be an African visitor, who has not yet been identified.
All persons on board were killed instantly, The Tribune was told.
According to reports from people at the scene, which were not confirmed by police, the plane "exploded in mid-air" after it hit the crane and then crashed.