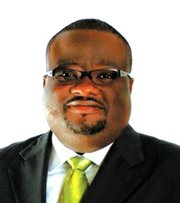 By NICO SCAVELLA
Tribune Staff Reporter
nscavella@tribunemedia.net
SKYBAHAMAS CEO and President Captain Randy Butler yesterday said "any number of factors," including "weather phenomena" and "microbursts" could have caused Sunday's fatal plane crash that killed Bahamas Faith Ministries International founder Dr Myles Munroe and eight others.
Although an official investigation is currently underway by the Department of Civil Aviation and other local and international agencies, Mr Butler told The Tribune yesterday the aircraft's hardware, software, human error or the environment could have all played a part in the crash.
Mr Butler said the high profile crash warrants "a public hearing" along with the release of the investigation's findings.
"If you're flying into a weather phenomenon like a front that was in that area, a front could have microbursts or other phenomenon like updrafts and downdrafts," Mr Butler said. "So we have to look at that. Was it a weather phenomenon that caused that air plane to be drawn into (the crane)? Or was it a controlled flight into it?
"Those are the questions that have to be answered by the investigators. Now (investigators) have the black box, that's going to give the data of exactly where that air plane was."
On Sunday, Dr Munroe and his wife, Ruth, were among nine people on board a Lear 36 executive jet that went down in a gruesome crash in bad weather in Grand Bahama.
Along with Dr Munroe and his wife, were Dr Richard Pinder, a BFMI executive, Lavard and Rudel Parks, BFMI youth ministers, and their five-year-old son Johanan. Pilot Capt Stanley Thurston, co-pilot Franhkan Cooper, and 38-year-old Colorado resident Diego DeSantiago were also on board.
They were heading to Grand Bahama for the 2014 Global International Summit, which Dr Munroe had organised.
The plane, which left Nassau at 4:07pm, hit a crane at the Grand Bahama Shipyard around 5:10pm and crashed in a nearby junk pile. All persons on board were killed instantly.
It is believed severe weather conditions may have contributed to the crash. According to reports from people at the scene, which were not confirmed by police, the plane "exploded in mid-air" after it hit the crane and then crashed.
While the public awaits the outcome of the investigation, Mr Butler urged the government to ensure that all airports throughout the country are certified in accordance with the International Civil Aviation Organisation's (ICAO) Annex 14 standards.
He also said Bahamians should hold the government to account to ensure that the crash is "properly investigated, documented and (its findings) distributed to all."
"Make sure that these airports that we have open to the public are properly certified, properly regulated, and those cases where you have people going to operate in those environments with any high cranes, there's a prescribed way to do that," he said. "The law and regulations would require the airport operator or controlling agency to distribute that information to people like me who are going to fly and we make a determination that because of the weather and that equipment operating, it's not a good time to do that flight there.
"This is one of these high-profile investigations where we should require a public hearing and we should require the release of these reports, and we should require the government to expedite it. All people on that air plane as humans are important, and we need to know what happened. (We) want to know if this was a human error, a mechanical error, or we want to know if the environment played a role, or the pulling of that crane affected the crash. (We) want to know that the government has the necessary things in place to protect us."
On Tuesday, investigators located the cockpit voice recorder and the digital electronic engine monitors from the ill-fated Lear jet, both pieces of equipment investigators said, would assist them in determining the cause of the crash.
The team of investigators includes four officers from the Department of Civil Aviation's Aircraft Accident Investigation and Prevention Unit, three officials from Bombardier, the jet's manufacturers, one from the US' Federal Aviation Administration, and one official from the National Transportation Safety Board.
Prime Minister Perry Christie, who on Monday visited the crash site with Aviation Minister Glenys Hanna Martin, has described the incident as a "tragic unpredictable loss of life."