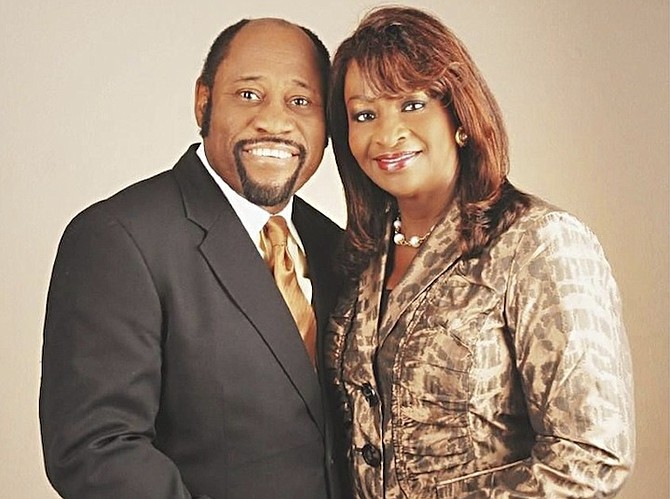 By RASHAD ROLLE
Tribune Staff Reporter
rrolle@tribunemedia.net
DR MYLES Munroe was talking on his cell phone with pastors of Bahamas Faith Ministries (BFM) in Freeport, Grand Bahama, when his Lear Jet crashed on Sunday, killing all nine on board.
The Big T can also reveal further details of the accident, with an official close to the investigations confirming yesterday that as the plane prepared for landing, its wing clipped a crane, causing it to roll, invert and then crash. The jet did not explode, contrary to earlier reports, and the incident lasted between nine and ten seconds. "They wouldn't have felt anything," said the official.
Garden Hills MP Dr Kendal Major described yesterday how he disbelieved the notion that his longtime "spiritual father" was on board the ill-fated jet until he learnt that Dr Munroe was on an abruptly ended phone call with pastors at the airport awaiting his arrival.
"I was in my home with my family, watching television, relaxing on a Sunday," said the longtime BFM member, who spoke to The Big T following a press conference at the International Diplomat Centre on Carmichael Road where memorial and funeral plans for Dr Munroe and his wife, Ruth, were announced. The funeral will be held on December 4 and the service broadcast live on television.
"I got a call from my assistant who said that he heard there was a plane crash and five minutes later the phone started ringing quite excessively and I got quite a bit concerned.," Dr Major said. "I think this was about 6 o'clock. And then I was told that it was his plane. My daughter called crying because she was told that I was on the plane and so there was a bit of a confusion. I dismissed it. I just really dismissed it because I thought it couldn't be true. It cannot be true.
"But not until I called the pastors in Freeport and they said that they were actually at the airport, waiting and talking with him as he was approaching landing - but then, suddenly, there was no more communication. That's when we knew that it was his plane and they started the recovery efforts; so it became very real to me at that point."
Dr Munroe officiated Dr Major's marriage ceremony and was the man who Dr Major said prompted his entrance into politics.
"I know Pastor Myles has been to many of us larger than life. But you know, I've been consoled very, very quickly because I recognise we were prepared and they've taught us well. We've always operated on a spirit of excellence and the expectation that these things could happen.
"All things that happen are well done in the sight of God so from that standpoint I'm not too surprised."