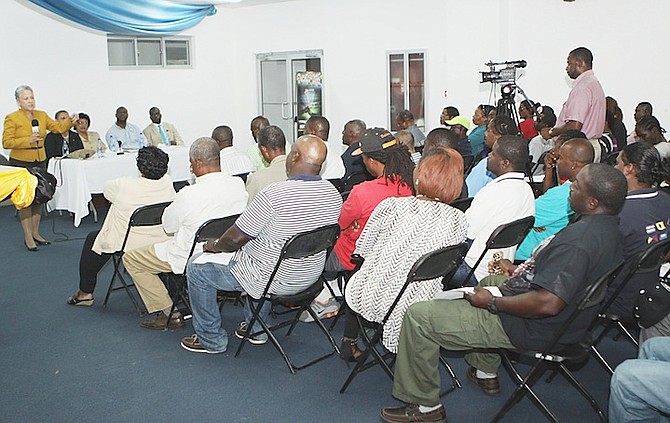 By NICO SCAVELLA
Tribune Staff Reporter
nscavella@tribunemedia.net
TRANSPORT and Aviation ministers have met water sports owners and operators in New Providence to discuss ways in which operators can provide "better and safer service" to tourists visiting the country.
Last week's meeting came almost two weeks after the US Embassy in Nassau warned American citizens of a recent spike in reported sexual assaults, some of which were linked to the "loosely regulated" sports industry on Paradise Island.
Since the embassy's warning, the report has made headlines in American media outlets such as The New York Times, the Chicago Tribune and cruiselawnews.com.
At a meeting at the Thomas A Robinson National Stadium on Thursday night, Minister Glenys Hanna Martin and State Minister Hope Strachan, along with other officials, met the operators to discuss the "negative events which have happened" and the "allegations that led to the US warning".
"We wanted to discuss how they can provide a better and a safer service for the visitors," Ms Strachan told The Tribune. "We are trying to raise the awareness of how important it is for them to preserve their livelihood and help to police themselves on the beach on a daily basis.
"We're put in a very precarious position as it relates to the industry. The country as a whole could be damaged tremendously. It's just the fact that you've had the travel advisory in The New York Times, a newspaper that's so widely read."
On November 3, the US Embassy, in a "security message" entitled "Recent Criminal Activity in popular areas of Nassau & Holiday Season Security Awareness," warned US citizens - most notably women - living in or travelling to the Bahamas to be on heightened alert to avoid being victims of crime.
One American woman was allegedly the victim of a kidnapping and violent sexual assault last month, the warning said. The embassy also noted that police have recently warned women to be vigilant after a recent spike in the number of reported sexual assaults in Nassau.
Regarding the reported instances of sexual assaults involving US citizens by water sports operators, the message said: "The water sports rental industry is only loosely regulated; since July there have been three reported sexual assaults on US citizens, including minors, by jet ski operators on Paradise Island."
Since its posting, the alert has been widely circulated in American media.
The introductory paragraph of an article posted a week ago by The New York Times said "water scooter operators" on Paradise Island reportedly "sexually assaulted at least three American tourists since July".
On his website Cruise Law News last week, Jim Walker, an American Maritime lawyer and blogger, questioned whether the Royal Bahamas Police Force (RBPF) was "covering up" crime against citizens of the United States to protect the tourism industry.
He questioned whether the RBPF was "in cahoots with tourism and government officials to suppress information regarding crimes against tourists", and said instead of "announcing the crimes committed against tourists and bringing attention to them in order to locate witnesses and demand accountability, the police seem motivated to keep the embarrassing information secret. Certainly, there's no doubt that admitting that US girls are being sexually assaulted by jet ski operators on Paradise Island is bad for tourism," he wrote.
"What family would ever travel to Nassau if they knew that perverts were targeting their children and sexually assaulting them on the beach or in the water?"
Ms Strachan yesterday said more emphasis was being made to ensure that water sports owners and operators assist with "port security and assisting the police with port security".
"You have persons who come out on the beaches who are not licenced, and we're trying to keep them out of the industry, away from the visitors," she said. "We want to help operators in trying to police themselves in terms of protecting their businesses. If they act as a cohesive group and recognise those persons who are not licenced and come out on the beach to operate illegally, they can assist us in protecting tourists and with the reporting of those persons.
"They are what I call interlopers. A lot of them are not licenced and some of them come on the beach and offer their services illegally to tourists. We wanted (operators) to raise their vigilance and to assist us in terms of trying to keep these persons off of the beaches."
Assistant Commissioner of Police Stephen Dean previously declined to comment on the embassy's warning, advising the media to look at crime press releases sent out by the RBPF daily and make their own assessments. He declined however to speak on whether authorities had received complaints about jet ski operators.