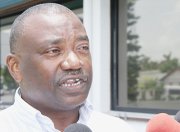 By NICO SCAVELLA
Tribune Staff Reporter
nscavella@tribunemedia.net
PHENTON Neymour, former State Minister for Environment, yesterday suggested that incumbent FNM Leader Dr Hubert Minnis has the advantage over his rival Loretta Butler-Turner, the party's current deputy leader.
His statement came as he formally announced his intent to run for the post of FNM chairman at the party's convention on Friday.
Mr Neymour also said if he is successful in his chairman bid, his main focus will be keeping the party together in the aftermath of the convention and preparing for the next general election.
Weighing in on the FNM's leadership race, Mr Neymour said while he has not spent time speculating on might win, "the leader always has an advantage" in any election.
"The FNM must clearly articulate its philosophy and its platform," he also said. "We cannot afford to be classified as the opposition merely opposing for opposing sake. Globally, we are moving at a faster pace and governing will require a proactive and responsive government."
He spoke to The Tribune at a press conference at the Corner Motel, which was owned by former FNM Chairman Charles Maynard, who died in August 2012.
Mr Neymour said the FNM needs "strong leadership at all levels of the party" and a chairman that would "equip (members) for the impending battle in the next general election."
"The decision-pmaking load is becoming too high for the leader," he added. "Governing will require in the future an approach that will expand the participation in the decision making process of a wider segment of our society, at all levels of government. What is essential at this particular time is strong leadership. One, an individual who speaks clearly. One who understands the structure of the organisation, and one who understands the role that each position and each association plays within the party."
"We need a responsive party that is battle ready," he added. "A leadership team that would bring all the soldiers under one tent and equip them for the impending battle in the next general election."
Meanwhile, the race for leader continues to heat up.
Mr Rolle is the first FNM to publicly announce his intent to run for chairman.
Last month, Brensil Rolle, the former parliamentary secretary in the Ministry of Housing, said he had not made up his mind on whether he would run for the post.
Just last week, Mrs Butler-Turner released a jingle titled "Loretta will be better" as she ramped up her campaign. Dr Minnis, meanwhile, has maintained that he is "unfazed" by Mrs Butler-Turner's efforts and has released a series of videos explaining why he is the better choice.