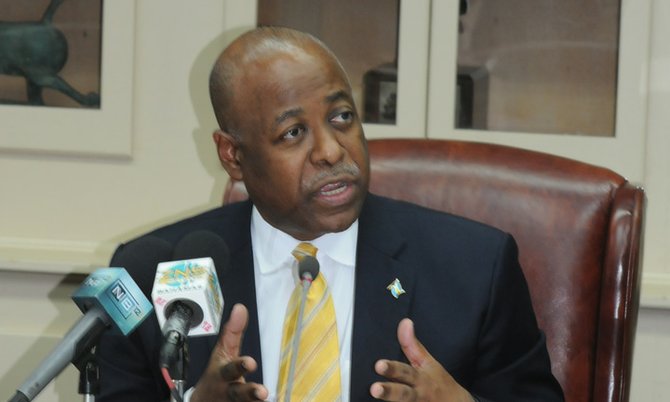 By NICO SCAVELLA
Tribune Staff Reporter
nscavella@tribunemedia.net
TOURISM Minister Obie Wilchcombe is "very concerned" about recent reports by some tourists and the US Embassy in Nassau regarding alleged cases of sexual assault on Americans by members of the water sports industry, mainly jet ski operators.
His comments came a day after The Tribune reported that a tourist, who posted her claims on a complaint website, said she developed post traumatic stress disorder following an encounter near Paradise Island with jet ski operators who allegedly tried to sexually assault her.
A little over a week ago, the US Embassy in Nassau released a warning over home invasions and a recent spike in reported sexual assaults, some of which are linked to the loosely regulated water sports industry on Paradise Island.
Mr Wilchcombe told The Tribune that as "the eyes of the world are watching us," it is imperative for the Bahamas to "have programmes to ensure that our visitors are protected".
He also said the government needs to hold discussions with the American government "and all the players" involved to implement a system that would "eliminate and cause for a reduction" of the importation of illegal firearms into the country.
"I must be concerned so I monitor the reports, particularly as it relates to jet ski operators," he said. "But we have to manage that. That's something that we have to take very seriously and we have to deal with. It should not have happened, it should not be happening, and no one coming to our country should be exposed to any form of crime.
"The truth is 99.9 per cent of visitors that come to The Bahamas are secure. They are not subjected to hostility or any crime, but we've had incidents and we cannot ignore them. On Wednesday, The Tribune reported that a tourist, on August 28, posted a complaint on consumeraffairs.com, claiming to have developed PTSD after local jet ski operators allegedly tried to sexually assault her.
The tourist, whose user name has been withheld, claimed she went on a jet ski with her friends before being taken alone to an island near Paradise Island with "eight other employees of the jet skis". It was there she said the employees tried "putting their privates in (her) mouth".
She said she "thankfully" got away, nonetheless she urged "parents, siblings and friends who have loved one that are girls" not to go to the resort.
Another user, who identified himself as the alleged victim's father, said that after contacting police, his daughter identified the men from a line-up and some arrests were made.
He said he and his daughter were emotional and physical wrecks, and said he was "beyond enraged" at Atlantis' security and how they handled the situation.
Mr Wilchcombe told The Tribune that even though most tourists are not subject to any crime the government cannot ignore the reports.
However, he said the government had to work with American authorities to stop the illegal gun trade.
"The truth is the guns that come here are coming from the USA," Mr Wilchcombe said. "We have to get the American government and all the players to understand as friends and neighbours, that we must continue to work together. They should consider new legislation for people who export illegal weapons into territories that are vulnerable like ours. Ensure that penalties are meted out to individuals who are causing this surge.
Last week, Minister of Transport and Aviation Glenys Hanna Martin and other officials met with water sports operators in New Providence to discuss ways in which operators could provide "better and safer service" to tourists.